Links to Sections:
A. What is a remote desktop or cloud service?
D. Important things to keep in mind while considering a cloud service
E. Applications and Services Available - 1. Remote desktop
E. Applications and Services Available - 2. Cloud services
A. What is a remote desktop or cloud service?
A remote desktop or cloud service is a computer you can log into and control over the internet (host).
The host computer sends a live video feed of what is onscreen to your computer.
The computer you remote control could be one that you own, or it could be a computer you rent from a cloud service provider.
You would do so to get access to higher-performance hardware or additional resources.
You might find that the words remote desktop or cloud service are sometimes used interchangeably.
You might use one or the other to help in creating your Project (using Build Mode, Photo, and Movie Mode). Or rendering your Photos and Movies once you have finalized things. Or both create and render.
Disclaimer: Lumion does not sponsor or collaborate with any of the software companies or cloud service providers listed in this article.
This article serves as a general guide and for information purposes only.
Lumion is only guaranteed to function as advertised and as stipulated on the EULA if it is installed in a local computer that matches or exceeds Lumions' system requirements. If you experience issues with Lumion, our technical support team will not be able to help as we do not own or have access to the remote system or cloud environment.
B. Compatibility
Lumion can be remotely accessed through a few applications.
Important: Not all virtual desktop offerings you find online can run Lumion. Many of them do not meet our hardware requirements or they are configured in a way that does not support Lumion.
Essentially, it requires a fast internet connection and cloud software that prioritizes low-latency connections and fast video encoding and streaming.
This would ensure that each click on your PC results in an immediate reaction on screen from the video feed of the computer you are accessing. See Section D. below.
C. What are the benefits?
1. Benefits of using a remote desktop
You will be aware of some, especially since 2020.
You can work remotely from the office, either at home or some other location.
You still get access to your folders and files on the PCs that are running in the office.
You can continue using your 3D modeling and BIM software, and Lumion.
2. Benefits of using a cloud desktop service
Cloud computing gives you temporary access to a more powerful system.
The system may be more scaleable, allowing for access to multiple more powerful graphics systems. Note that Lumion still needs to be installed on each to access the graphics card.
If your local computer only meets Lumion's minimum requirements, accessing a more powerful computer remotely might be useful in certain situations to accelerate your workflow, or significantly reduce the time to render.
D. Important things to keep in mind while considering a cloud service
1. You will need to install Lumion on it:
When you rent and remote control a computer through a cloud service, the Windows environment will be fresh and will only have the bare minimum installed. You would need to install your Lumion product onto that computer and the duration of that process will count towards your rental cost.
2. Internet speed & geographic location:
Using Lumion while remote controlling a computer over the internet requires a very reliable and fast connection for both you and the host computer.
The location of the host computers (or servers) should also be near you geographically. For example: If you live in Europe and use a cloud service that has its servers in the US, you will experience a delay in the reaction to your mouse clicks and key presses resulting in an overall sluggish experience. This happens because the distance between computers results in the signal taking longer to travel between them.
3. Low latency video encoding:
Cloud software and providers that prioritize low-latency through fast video encoding and streaming work best with Lumion.
This will ensure that every click on your PC results in an immediate reaction on screen from the video feed of the cloud computer you are accessing. As a core part of Lumion is creating your scene in Build Mode, and customizing the effects in Photo Mode or Movie Mode, you expect to see quick and fast reactions to your clicks.
4. VM configuration:
Cloud providers who configure their services with Virtual Machines must check if their configuration supports Lumion. Lumion requires direct and exclusive access to a graphics card and for specific ports to be open in order to operate.
Note: If you find a cloud service that is compatible with Lumion, then Lumion works best if you start it via the remote desktop connection.
If Lumion is already running when you start a remote desktop connection, the mouse sensitivity might be too high.
E. Applications and Services Available
1. Remote desktop: Programs to remote control a computer you own that works well with Lumion
If you own a powerful computer and wish to remote control it over the internet, here are some programs you could use. It's important to test these programs for yourself, as individual circumstances might change the experience you get.
1.1 Requirements:
You install a remote desktop to your PC and connect it to the other PC. In some cases, the remote desktop may require an installation at both places.
Everything is installed at the office. However, you are best to install Lumion on your home PC if the hardware is at least the same as the office.
Installing elsewhere may require specific permission from your bosses.
The software and the License Key are owned by the company that you work for or contract to.
You need to apply due diligence and security of any emails and the software whilst Lumion is installed elsewhere.
It is essential to have a fast internet connection.
Our LiveSync technology interfacing to your 3d modeling/BIM does not require any other special connections, and in general things like Autodesk BIM360 will continue to work as if you were working on local files.
1.2 Best results:
1.2.1 Parsec:
Parsec is software that you can install on 2 or more computers you own. For example, you can install it on your own work PC and remote control it from anywhere using another PC or Mac you own.
It prioritizes low-latency connection and has fast streaming technology to ensure a smooth experience while remotely controlling your work PC. Parsec has a free version and also a paid version for professionals and teams.
1.3 Somewhat usable:
1.3.1 Microsoft Remote Desktop:
Microsoft Remote Desktop is a free app that works for some users and is similar to the program 'Windows Remote Desktop' that is built into Windows 10 Pro. The app is used to connect to a remote PC or virtual apps and desktops.
The mouse sensitivity issue observed in Lumion 8.5 and older versions when accessing Lumion via Windows Remote Desktop (Connection) has been resolved in Lumion 9.0 and newer versions.
However, Windows Remote Desktop (Connection) is not recommended as it may have a high delay and may result in glitches. Please test it thoroughly before deciding to use it.
1.3.2 TeamViewer
Some remote desktop applications such as TeamViewer might let you start the rendering procedure but we don't recommend building your Project with it.
Navigating around your scene and moving objects, etc, will not work as expected due to the delay and mouse sensitivity issues. We advise anyone who is interested in accessing Lumion via TeamViewer to first test it out. It has a free version and also a version for professionals.
2. Cloud services: Rented computers and services that work with Lumion
2.1 Fluidstack.io:
Fluidstack is a paid service that provides desktop environments all around the world at low, competitive prices. They provide access to powerful PCs with CPUs and GPUs that meet Lumion's 'High-End' requirements.
Fluidstack is simple to use, using Window's build it Remote Desktop app to establish the connection with your purchased system. Fluidstack configures their service to prioritize a low-latency connection, however it's important that customers make sure that the system they rent is in their same country or continent to ensure a smooth connection.
In order to use Lumion with Fluidstack.io, customers are encouraged to email the Fluidstack.io team before making a purchase via sales@fluidstack.io. Make sure to let them know that you are using Lumion with your VM or baremetal setup, so that they can properly configure your system for the best results.
2.2 Shadow:
Shadow is a paid service that provides desktop environments that can be rented and remote-controlled from your home computer.
It uses a fast low-latency streaming technology ensuring a fast response time and a good Lumion experience. Shadow has servers in the US and Europe.
2.3 Cloudalize:
Cloudalize is a paid service that provides desktop environments for rent and uses the Citrix platform. Currently, only the most high-end plan on Cloudalize has the recommended hardware to run Lumion.
Also, you will need to contact customer support at Cloudalize to request that they change the settings of your virtual desktop to prioritize low-latency over image quality. Note also that Lumion 10.5 Pro Student does not support Cloudalize.
2.4 iRender:
iRender is a paid service based in Vietnam that provides access to powerful PCs with CPUs and GPUs that meet Lumion's 'High-End' requirements.
Getting set up with iRender takes a few steps. They have quick and friendly customer service that can help you throughout the process.
If you are in Europe or North America, the connection to the iRender machines will have a delay.
If, for example, you need to render a very long movie in 4K and your local PC would take too long, we recommend that you create the Scene and apply the Effects with your local PC and then do the final render through iRender. If, however, you live in Asia, then iRender would provide a smooth Lumion experience whilst creating a Project.
2.5 Vagon:
Vagon offers a variety of virtual machines that can be accessed from any device. Their application works can be accessed via your browser - however, for best results, it's highly recommended to use their desktop application.
The paid solutions they offer range from individual accounts or teams to corporate level features and the device performance meets the 'Recommended' requirements of Lumion for the following configurations: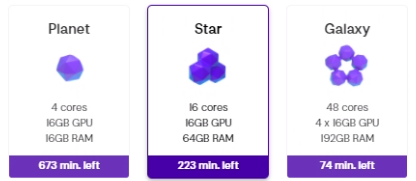 Other configurations are also available but not recommended due to various system requirements. Note that a minimum drive space of 200GB should be allocated when setting up the machines.
2.6 Auxilio:
Auxilio AI is a cloud computing service that provides high-performance computing resources, including powerful GPUs and CPUs that meet Lumion's "High-End" requirements. While it is a paid service, Auxilio AI offers low and competitive prices to make its platform accessible to a wide range of users.
To use Auxilio AI's GPU-accelerated Cloud, you need to first create an account and select the appropriate cloud service. Once this is done, you can use Remote Desktop Protocol (recommended) or other similar software to establish a connection with the cloud service and access it from your local device.

We tested Lumion with a European-based IP address the setup with NVidia RTX A6000 cards, and the result was a fast response time with an overall good Lumion experience: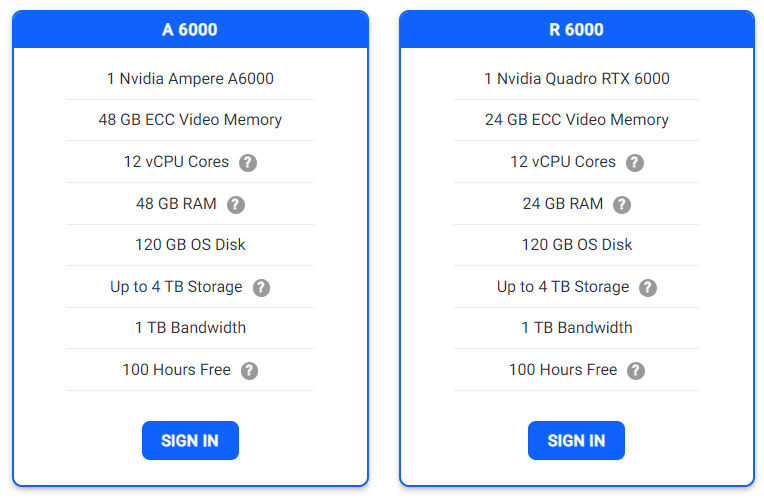 The two types of virtual machines include the RTX A6000 and RTX 6000 graphics cards from Nvidia. Both configurations should be more than capable to handle most Lumion projects.
Keep in mind that the specific steps and requirements for accessing Auxilio AI may vary depending on the service and the particular cloud computing platform you choose to use. It's always a good idea to consult the documentation and support resources provided by Auxilio AI to ensure you have a smooth and successful experience.
Important: Please note that, by default, the Auxilio disk configuration only comes with 120GB of storage. We recommend a minimum of 250GB for Lumion on the C: drive.
3. Services that might not work well with Lumion:
Note: The Lumion team has not tested other cloud desktop access services such as: Splashtop, WMWare Fusion, VMWare VDI, ZenApp, Nvidia GRID, RTX Server, XenServer, XenDesktop, HP zCentral Remote Boost, and others not included in those mentioned in Section E.
We do get inquiries from customers trying to use the above and have found there can be issues as they do not fully meet the requirements mentioned earlier.
If you need further advice or assistance with an existing remote desktop or cloud service, please Contact Us: