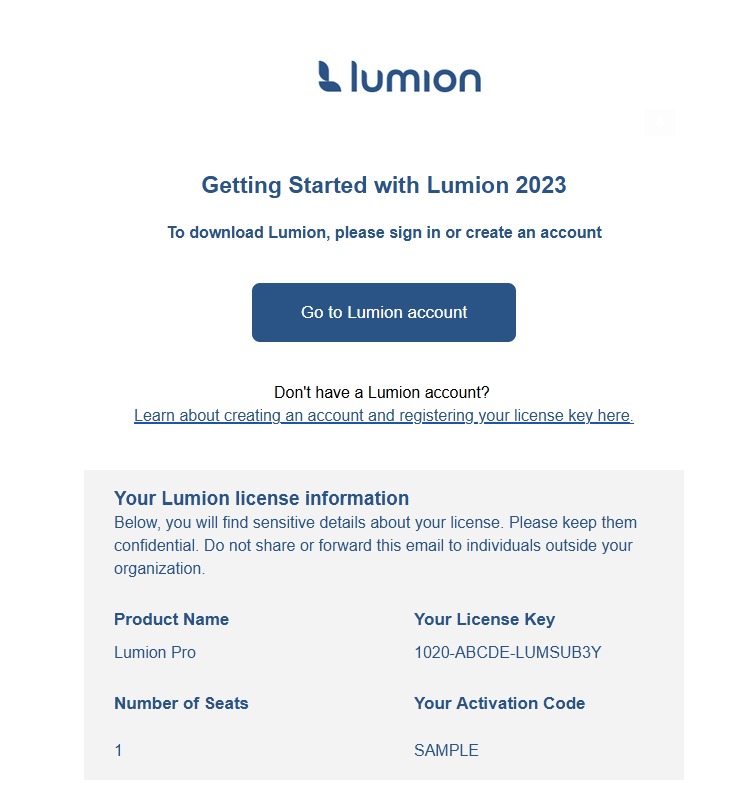 1. Use the Resend function below to resend the email
The Getting Started with Lumion email is sent automatically when you order a Lumion License Key or when a free update is released.
The email can be resent automatically to the email address that was entered when ordering the License Key.
1.1: Please enter your License Key number below or by following this link and click on the Resend button.
The License Key number can be found in the email purchase receipt and in older Getting Started with Lumion emails.
2. Check if the email is in your Spam/Junk folder
2.1: If the email still has not arrived, please double-check that the following senders and domain names are whitelisted in your email software before clicking on the Resend button in step 1.1:
no_reply@lumion.com

delivery@lumion.com
3. What if you can't find the License Key number?
3.1: If you can't find your License Key number or the email is still not arriving, please describe your issue and forward the information below to us in a support request:
Please include:
The Lumion version that you require.
A copy of your order receipt.
An alternative email address (if you are not receiving the Getting Started with Lumion email, despite whitelisting the sender addresses above).