1. Here's how
Render speed will decrease if your Scene is 'too complex' and if your hardware is not powerful enough and/or lacks available System Memory and Virtual Memory.
The symptoms of a 'too complex' Scene are that the screen turns white and your PC becomes unresponsive while rendering.
'Too complex' refers to the following variables:
A: The number of different models you have added to the Scene.
B: The

3D Points

number in the top right corner of

Build Mode

. Click here to see how to reduce this number.
C: The number and resolution of textures/materials.
D: The

Movie/Photo

Effects you're using, in particular, the

Sky Light

and

Hyperlight

effects.
E: How many Reflection Planes you've added in the Reflection Effect.
F: How many Reflection Planes you've added in the Reflection Effect with the setting Sky Light in Planar Reflections in the

Sky Light 2 Effect

set to On.
G: How many

Spotlights

that are set to

Shadows: Dynamic

in the Scene.
H: How many

Spotlights

you have selected in the Global Illumination Effect.
I: How many large surfaces you have assigned

3D Grass Materials

to.
J: How many

Video Textures

you have assigned to materials.
1.1: To reduce the time it takes to render a Photo or a Clip, you should try to reduce the number of all of the above.
And make sure there is enough Virtual Memory.
1.2: Please also note that you can shorten render times by reducing the Output quality, the Frames per second and Output resolution.
Example: Rendering a Clip at 1280x720 pixels in 3 star quality and 25 frames per second is a lot faster than rendering the Clip at 3840x2160 pixels in 5 star quality and 60 frames per second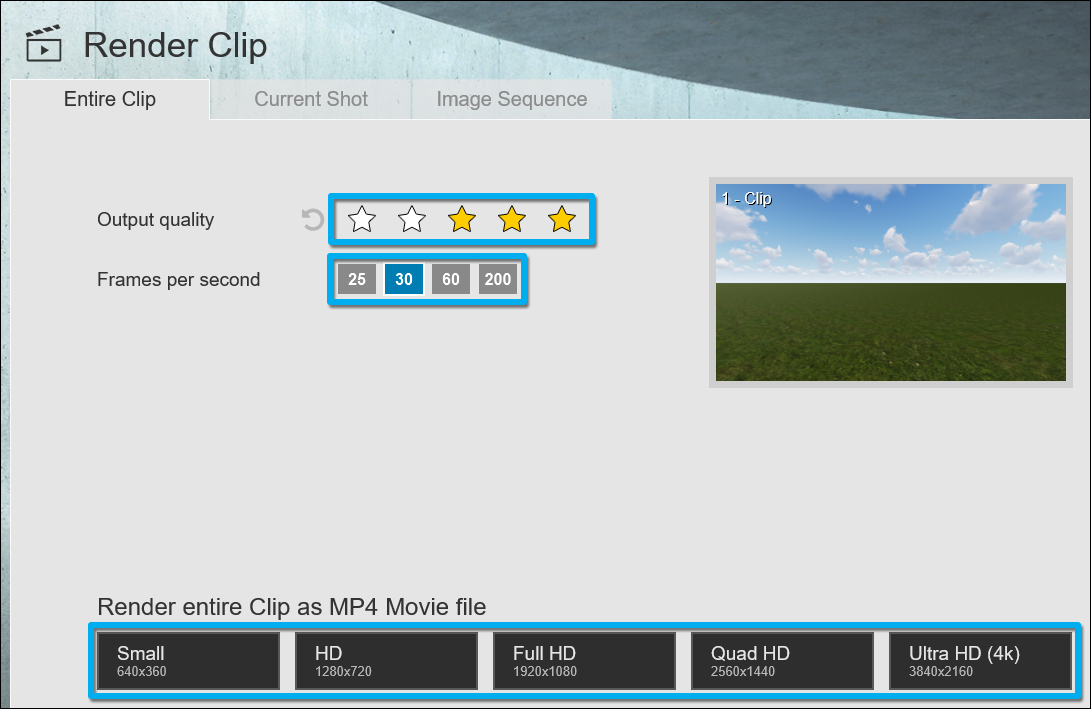 1.3: Alternatively, you could consider upgrading your hardware:
Knowledge Base: What kind of computer does Lumion need?
Knowledge Base: Which graphics card do you need?