1. Here's how
Render speed will decrease if your Project is 'too complex' and if your hardware is not powerful enough and/or lacks available System Memory and Virtual Memory.
The symptoms of a 'too complex' Project are that the screen may turn white and your PC becomes unresponsive while rendering.
1.1: Reduce the Complexity of the content:
To reduce the time it takes to render a Photo or a Clip, you should try to reduce the number of each of the following elements in your Project.
A: The number of different models you have added to the Project.
B: The

3D Points

number in the top right corner of

Build Mode

. Click here to see how to reduce this number.
C: The number and resolution of textures/materials.
D: The

Movie/Photo

Effects you are using, in particular, the

Sky Light

and

Hyperlight

effects.
E: The number of Reflection Planes you have added to the Reflection Effect.
F: Sky Light in Planar Reflections in the

Sky Light Effect

is turned on and you are using Reflection Planes in the Reflection Effect.
G: The number of

Spotlights

that are set to

Shadows: Dynamic

in the Project.
H: The number of

Spotlights

you have selected in the Global Illumination Effect.
I: The number of large surfaces you have assigned as

3D Grass Materials or Foliage

. Click here to see how to optimize them.
J: The number of

Video Textures

you have assigned to materials.
1.2: Change Output Settings:
You can also shorten render times by reducing the Output quality, the Frames per second, and the Output resolution.
Example: Rendering a Clip at 1280x720 pixels in 3-star quality and 25 frames per second is a lot faster than rendering the Clip at 3840x2160 pixels in 5-star quality and 60 frames per second.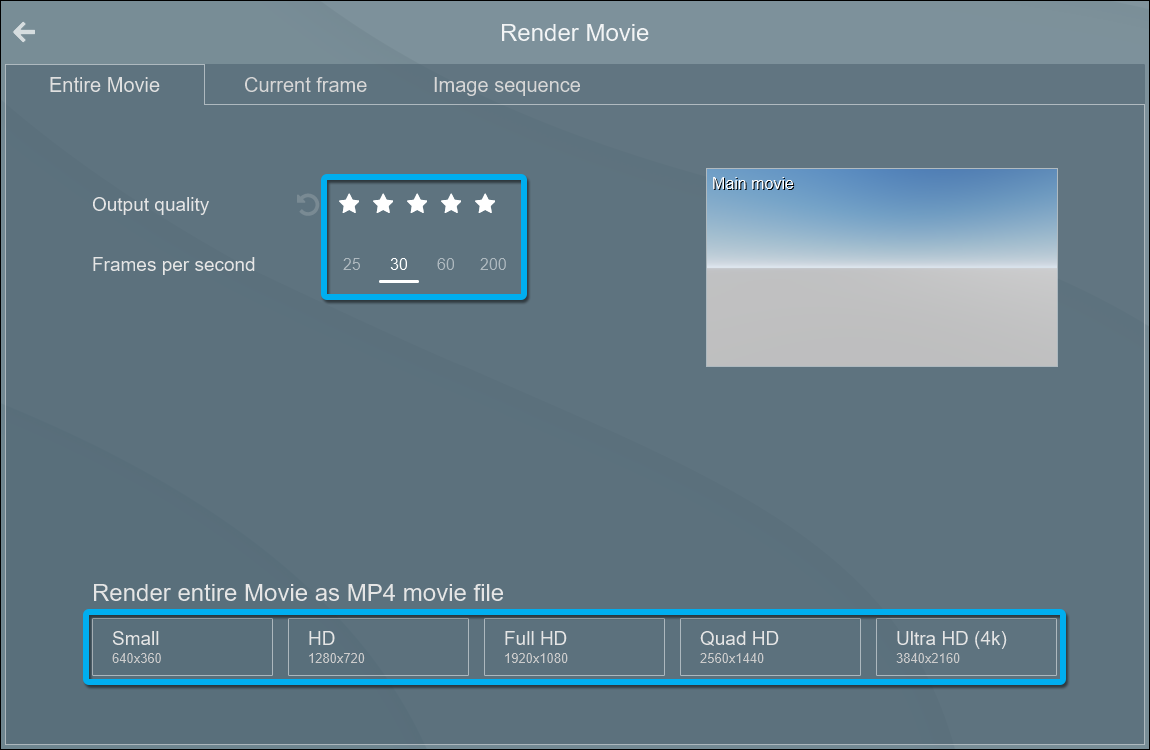 2. Which content and features are the most demanding for your computer?
In general, the more textures, models, and details you add while editing your Project, the more demanding the whole Project will be on your computer.
The high-end Lumion features mentioned in table 1.1 (above) demand much more from your hardware.
Not only will your screen frame rate be affected, but the render time may also increase. A computer system that has at least the Recommended system requirements will provide you with a smooth experience, but you can always push things too far depending on what you add to your Project.
If you find that your Project has become 'too complex' and that your screen frame rate and render times have become affected, then see this article:
See Also: