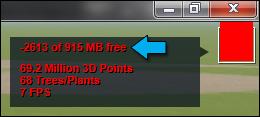 1. Here's why
The reason is that on Windows 7, Microsoft's DirectX function cannot retrieve the correct Graphics Card Memory parameter for graphics cards with more than 4 GB memory.
This is purely a cosmetic error in the Performance Monitor: all of the Graphics Card Memory is used in Lumion 6.5 and newer.
1.1: To resolve this problem, please upgrade to Windows 10 or Windows 11.