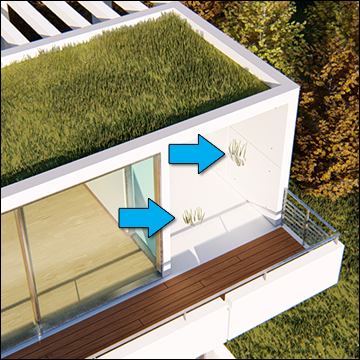 1. Here's why
Lumion 8.3 and newer: You do not need to read this article as it does not apply to newer versions of Lumion.
Lumion 8.0 and older: If you have turned Landscape Grass on in your Scene, and you have assigned the Landscape Material to a surface above the Lumion Terrain, you may sometimes notice small strands of Landscape Grass floating above the Landscape Material.
This is a technical constraint in Lumion 8.0 and older versions.
It can occur when several imported surfaces with the Landscape Material overlap vertically at different heights. For example if you assign the Landscape Material to a roof as well as to the imported ground surface below the roof.
2. Workaround
2.1: If you are unable to upgrade to Lumion 8.3 or newer, you could consider assigning a different material to your rooftop and adding grass objects manually from the Grass tab in the Nature category to the rooftop.