1. Latest download link
* Lumion 8.5-10.5 may work, although this functionality is not officially supported or guaranteed.
2. LiveSync settings

Collect textures:
Export all texture files to a folder in the same location as the exported .DAE file.
Export nodes:
Export the model so that all elements can be replaced by Lumion models, e.g. trees.
Optimize geometries:
Off: The exported .DAE/LiveSync file will be bigger and the imported model will be more complex.
On: The exported .DAE/LiveSync file will be smaller and the imported model will be less complex. However, it will take longer to export the .DAE file.
Use current UCS:
Off: The 'World Coordinate System' (WCS) will be used.
On: The 'User Coordinate System' (UCS) will be used.
3. BricsCAD in the context of the real-world. Model your design in its future environment.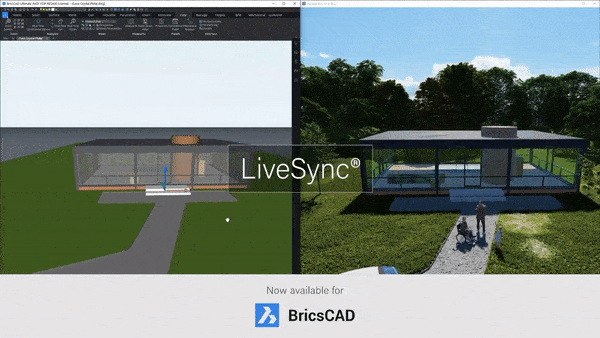 BricsCAD is the complete solution for the architect's design process, and the new LiveSync for BricsCAD feature pulls Lumion's exceptional real-time rendering technology into the mix.
With only a click, you can synchronize your BricsCAD 3D model with Lumion, allowing you to dress your model with elegant materials and objects from an expansive content library. Instantly, you can see your model in its real-life setting, whether that's in the center of an urban metropolis or a picturesque rural environment.
You will need Lumion 11.0 (or above) and BricsCAD 18 (or above).

Lumion LiveSync for BricsCAD
Immediately set up a live, real-time visualization between BricsCAD and Lumion. Change the BricsCAD model's shape and you'll see these changes taking place, in real-time, in Lumion's breathtaking, lifelike environment.
As you continue modeling in BricsCAD, you can simultaneously view your project in Lumion surrounded by an immersive, fully featured landscape (mountains, water, grass). Beautiful materials make the design 'pop', while photo-realistic lighting suddenly heightens your sense of environment, realism and depth.
Real-time materials synchronization
Instantly breathe life into your synced BricsCAD model by applying any of Lumion's 1000+ high-definition materials in the Lumion editor. As you continue to develop the design, you can tweak the materials exactly to your liking and then save your material layouts for future rendering.
Live point-of-view synchronization
LiveSync now enables live point-of-view synchronization. Turn it on and immediately adopt the BricsCAD camera perspective, making your work easier, faster and more enjoyable.
Automatic model imports
When establishing the LiveSync connection, Lumion will automatically import your BricsCAD model. Continue working on and modifying your project even after you turn off LiveSync, and easily save the file as an .LS for future rendering or development.
See also: