Lumion 11.0: Release Notes
Features, models and materials with the asterisk (*) character are only available in Lumion 11.0 Pro.
Refer also to the Compare versions table - Comparison tab:
Please note that Projects and models saved in version 11.0 cannot be opened in older versions of Lumion.
1. New feature highlights
1.1: Orthographic View Effect:
(Photo Mode, Movie Mode: Camera Category)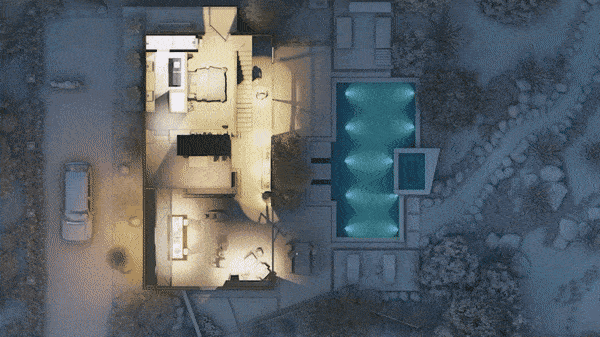 Plan views. Section views. From elevations to isometric.
At each stage of the design process, the new Orthographic View feature in Lumion 11 lets you embed life, color, and texture into all of your technical renderings. Instantly transform your standard documents into polished, one-of-a-kind images and videos, and maintain continuity with your other renderings without having to rely on other software.
You can make exciting, lively plans, sections, elevations, and isometric views in just a few clicks, and express the simple yet beautiful perspectives of your vision throughout the design process.
1.2: Animated Phasing Effect *
(Movie Mode: Animation Category)
Begin with a blank landscape. Slowly, trees rise from the ground. The walls of a residential home materialize as if out of thin air, and the living room, bedroom, and kitchen furniture fall into place from the sky.
With the new Animated Phasing Effect, you can show the process behind your designs' development or construction through the power of animation. Apply different transitions, make parts of your building appear and disappear, and highlight what makes your building creative and unique.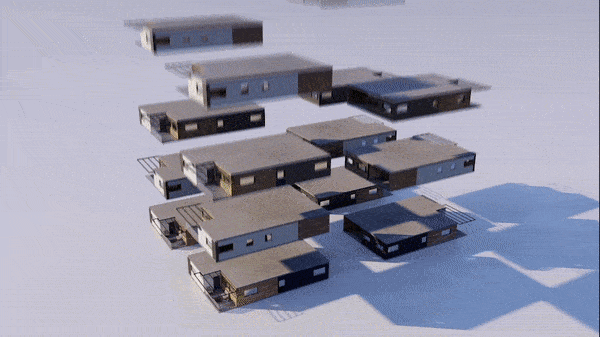 Model provided by Centric Bamboo and Gorilla Design.
1.3: Rain streaks *
(Photo Mode, Movie Mode, Panorama Mode: Precipitation Effect - Weather Category)
Capture the mood of a rainy day with the new rain streaks option as part of the Precipitation Effect.
With only a slight movement of the slider, dozens of dynamic, intelligent raindrops move down glass surfaces.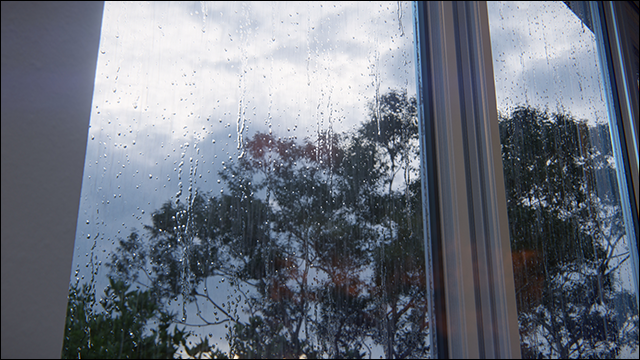 Raindrops are first enabled as a setting on a PureGlass Material (Pro only).
See also section 2. Other New Features & Improvements -> Material Editor -> 2.15: PureGlass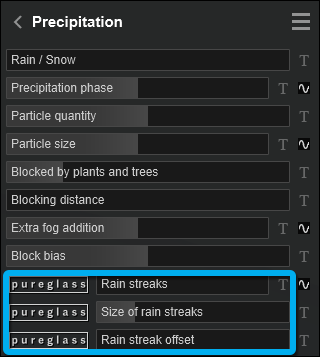 1.4: Volumetric fire *
(Build Mode: Content Library -> Effects ->Fire )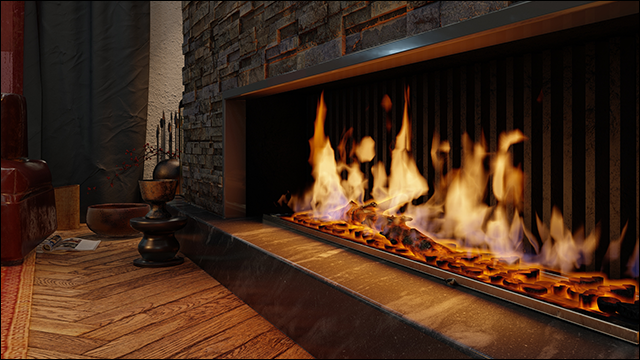 The soft glow of fire tends to draw people together, and in Lumion 11, you can tap into the warm and welcoming atmosphere of fire with the new volumetric fire object. Simply add the new Volumetric Fire to cast a feeling of coziness and warmth to your interior and exterior renders, creating an uplifting mood that naturally attracts your audience into the space.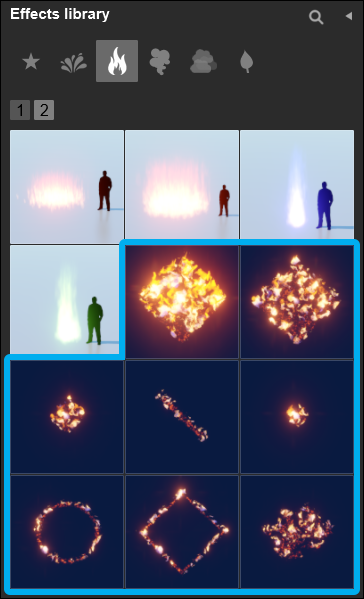 Volumetric Fire supports custom shapes and colors by importing a custom texture. Size, turbulence and intensity can be adjusted in the object properties window.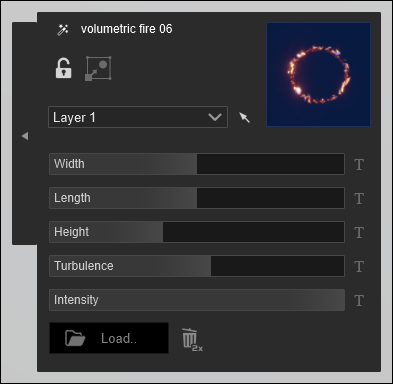 1.5: Micro shadows for

Spotlights
When you turn on the Fine-Detail shadows in Lumion 11 via the Shadow Effect, the new micro shadows for Spotlights will be active and infuse a soft gradient of shadow into all of the tiniest details wherever you shine a Spotlight.
1.6: Improved grass lighting
(Build Mode: Landscape tab, Materials Editor: 3D Grass Material)
In Lumion 11, the new improved grass lighting technology helps connect your building design to the earth where it stands, turning the visual experience of your renderings into a sensory one.
Without any effort required from you, all the grass materials, including the customizable 3D Grass Material and the Landscape Grass, look as if they're softer and more representative of real-life landscapes.
1.7: Metallic paint car shader *
(Build Mode: Content Library -> Transport -> Object Properties)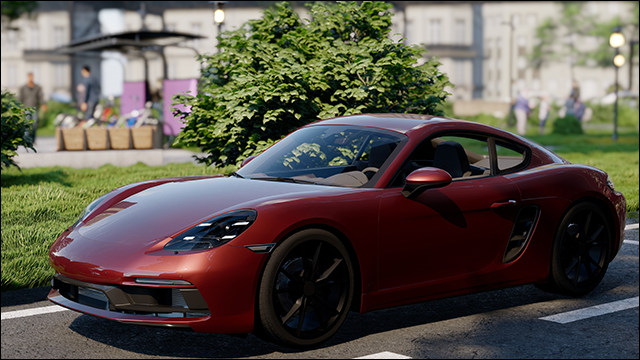 With the new metallic car shader in Lumion 11 Pro, the cars in your renders take on an impressive realistic quality, making them barely distinguishable from the real thing. Every element, every light in your render is reflected in the car's chassis and windows, instantly and organically integrating the car into the project's surroundings.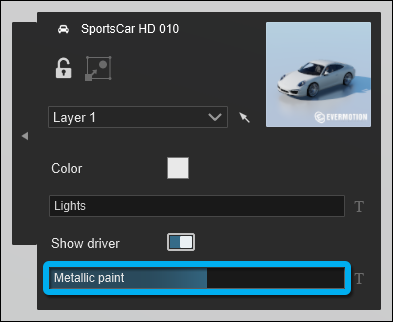 1.8: New objects in the Object Library: 401 in total *
(108 objects are now unlocked in Lumion (Normal)
Fine-detail Nature

models: 61, consisting of plants (27) and trees (34).
Nature: 65, including grasses and weeds.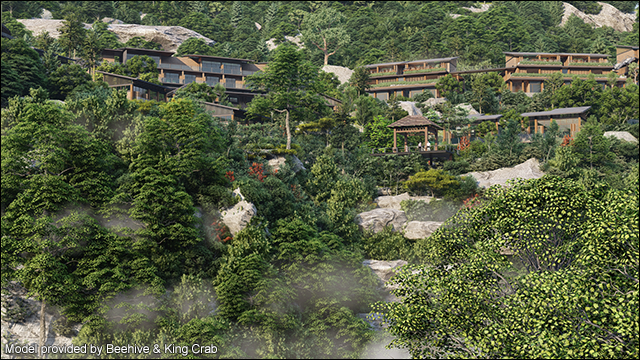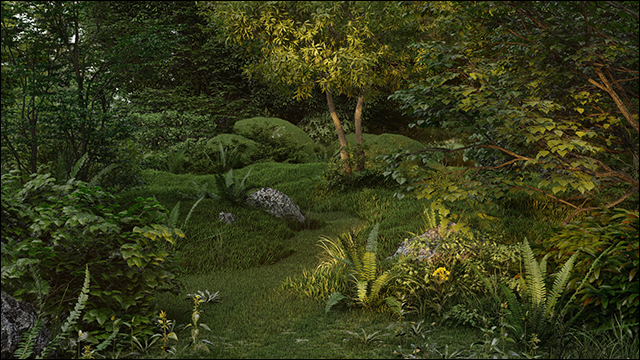 Transport models: 12 (HD cars).
Interior objects: 177, including light switches and sockets.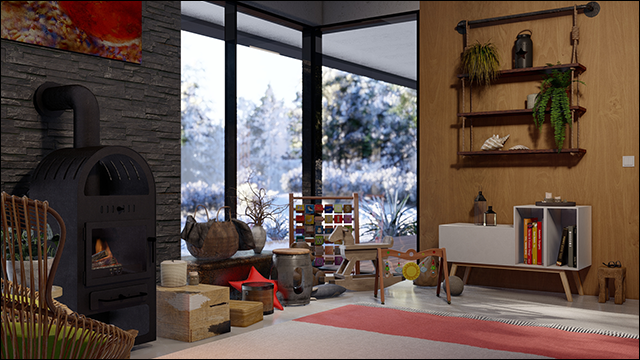 3D people and animals: 49, consisting of 33 high-quality animated and 16 new high detail static characters.

Exterior objects: 29, including furniture, lighting and signs (among others).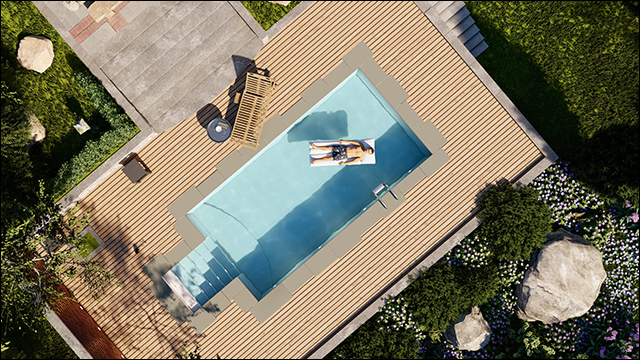 Special effects objects: 8 for the new Volumetric Fire object.

All of the new objects are HD quality, and the new additions bring the total number of items in the Lumion 11 Pro content library to 6,224 *.
Lumion has approximately 33% of the models from the full Lumion Pro Model Library.
1.9: New materials and Effects Library *
(Lumion Materials Library)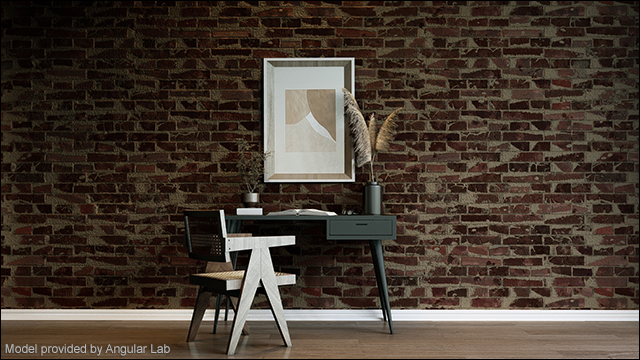 Lumion 11 comes with 63 new, beautifully realistic materials covering a range of interior and exterior materials. Now, you have more options when showing exterior views of your design surrounded by captivating, beautiful environments. All of the new materials include Displacement Mapping.
The new materials in Lumion 11 include:
Indoor
Outdoor
Various

Fabric: 10
Leather: 3
Plaster: 1
Stone: 1
Tiles: 3
Wood: 8

Asphalt: 2
Bricks: 5
Concrete: 1
Plaster: 1
Stone: 8
Wood: 11
With the new additions, the total number of materials in Lumion 11 Pro is 1292 *.
1.9.1: Real Skies Effect: added 11 new Real Skies. Cloudy: 1, Evening: 3, Overcast: 6, Clear: 1.
1.10: Satellite maps in OpenStreetMap *
(Build Mode: Landscape tab ->OpenStreetMap)

Render an entire real-life city. The elevations of its terrain. And all the minor details that make up the landscape around it.
The OpenStreetMap feature takes another leap forward in Lumion 11 Pro, to include beautifully detailed satellite maps. With these, you get real-world terrain, rivers, farmland, and more are all available, from all over the world, in just a click as you download the OpenStreetMap for your building location.
In Lumion 11 we also now have filtered heightmaps from a new source (ESRI). This helps prevent or reduce the change in height because some buildings would contribute to the heightmap.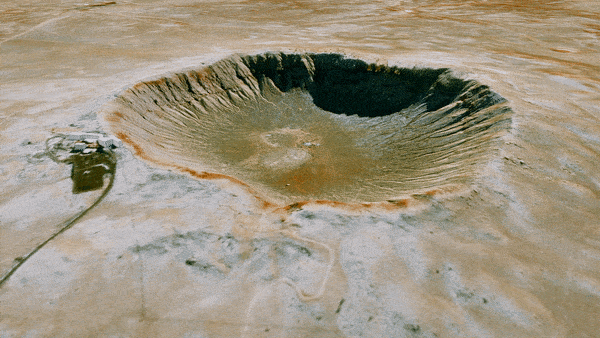 1.11: Custom IES Spotlights
(Build Mode: Content Library -> Spotlights -> Object Properties)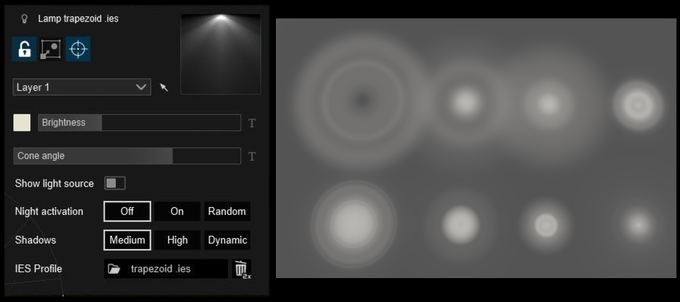 In Lumion 11, you can now import your own custom IES spotlight files to connect your Spotlight objects with the Illuminating Engineering Society (IES) lighting profiles.
With custom IES Spotlights, you no longer have to tweak and customize your Spotlights; simply load the relevant IES profile and recreate the exact lighting arrangement you need, illuminating the best parts of your Project.
1.12: Lumion LiveSync for BricsCAD plug-in
(Build Mode, Photo Mode)
Lumion LiveSync lets you create a seamless, real-time rendering connection between the leading CAD programs and Lumion, including SketchUp, Revit, ArchiCAD, Rhino, Vectorworks and AutoCAD. With LiveSync, it's possible to get a feeling of your work-in-progress model immersed in its natural environment, cast under photorealistic skies and lifelike weather, and illuminated with diverse lighting conditions.
Lumion LiveSync continues to extend to new CAD packages as part of its functionality, and the latest in this long list of real-time rendering possibilities is LiveSync for BricsCAD, available in Lumion 11.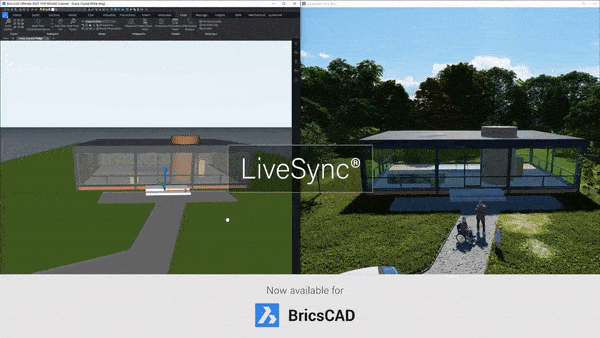 Lumion LiveSync for BricsCAD supports BricsCAD 18, 19, 20, 21 and newer and is available here:
1.13: RAL color picker
(Build Mode)
Lumion 11 now features a RAL color picker to ease your color selection and accurately connect it to the European RAL color standard.
The RAL color picker is part of the Color Selector interface - see also the changes below in section 1.18.1.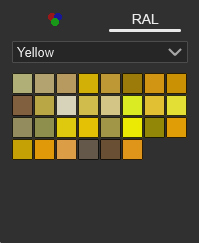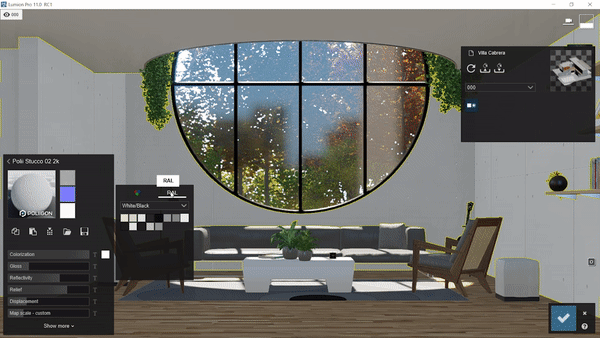 1.14: High-quality theater preview
(Photo Mode, Movie Mode, Panorama Mode)
Get even closer to the final look and feel of your rendering with the updated high-quality preview. In Lumion 11, you can now see the high-quality preview for the Lumion Theater Mode and the Lumion Viewer.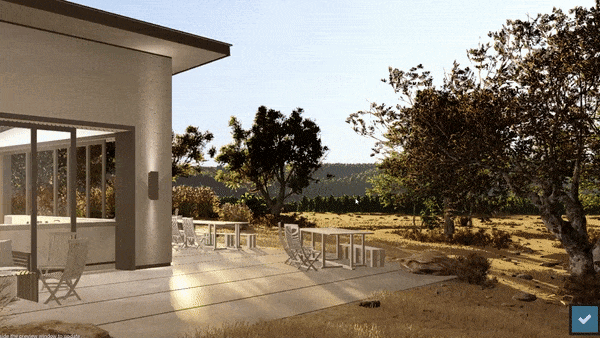 Model provided by Ten Over Studio.
High-quality preview in Theater Mode works as follows:
When you go from Movie Mode to Theater Mode, then the high-quality preview will only trigger when the animation is not running. Click on the screen to update like you do when in Preview.
A high-quality preview is not available when you go from Build Mode to Theater Mode.
High-quality preview is now supported for this Mode using the function key F11.
Lumion Viewer

: High-quality preview can be triggered the same as in

Lumion

when in

Theater Mode

.
1.15: Artistic panorama effects
(Panorama Mode)
Transport your client into the living room of a residential sketch; experience the height of your commercial building with a fun painting Effects applied.
In Lumion 11, you can now apply several artistic Effects to your 360 Panoramas (VR - still image and MyLumion 360 Panorama).
Example: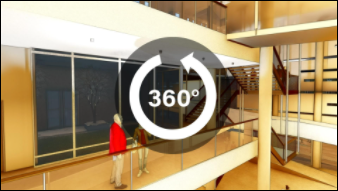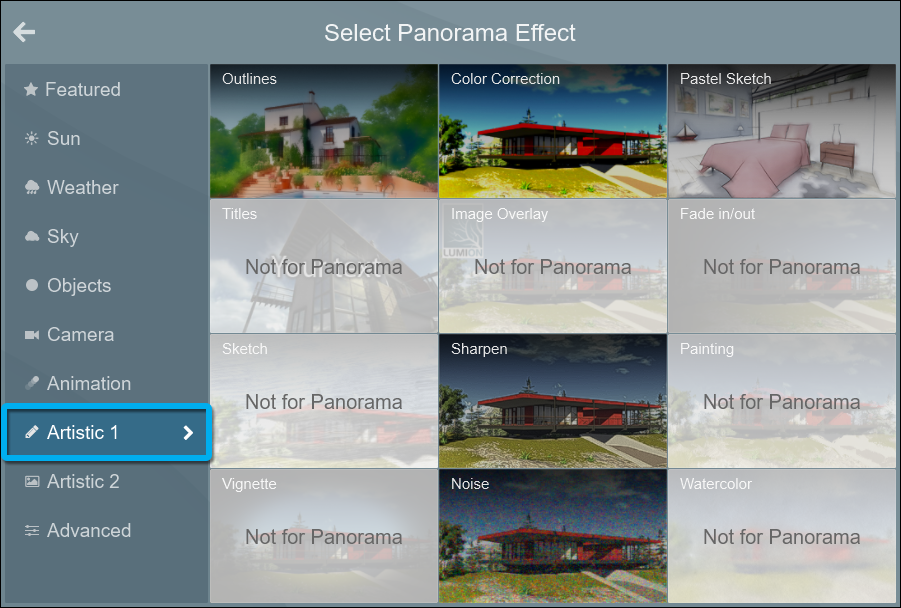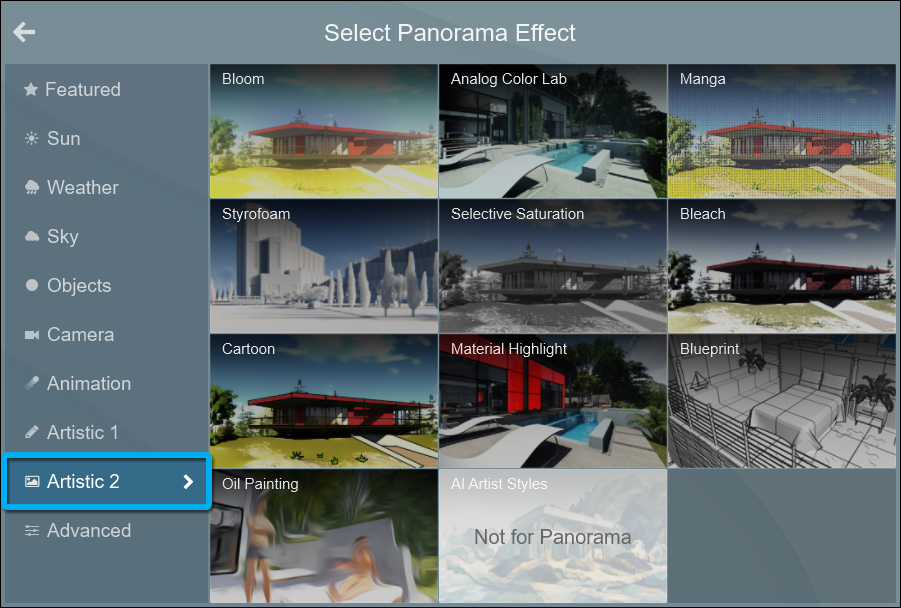 1.16: Basic tutorials for new users
(Build Mode)
First time using Lumion? No worries! For over a decade, architects have celebrated Lumion as a stunningly simple learning experience, and building on that theme, Lumion 11 now features an in-program tutorial for new users to help reduce (and virtually eliminate) the already-short learning curve of Lumion.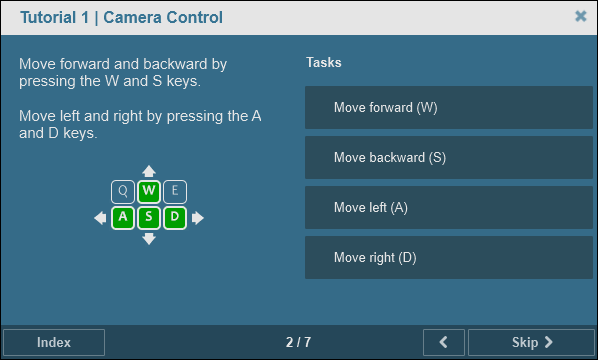 1.17: Updated user interface
(Build Mode, Photo Mode, Movie Mode, Panorama Mode)
Ease and enjoyment are two qualities native to the Lumion rendering experience, and in Lumion 11, the updated user interface ensures a logical and intuitive flow as you work in the Lumion Editor or render out a Photo, Movie or a 360 Panorama.

1.18: Smooth workflow improvements

In Lumion 11, you can enjoy several workflow improvements to help streamline your rendering projects, including:
1.18.1: Updated Color Selector
The interface has changed to a colored button to show the Color Palette (previously the Color Palette was fully displayed).
In the new Color Palette, you can input HSV, RGB or Hexadecimal values, or select the color using the mouse. Also, you can paste a #Hex value either to the # (Hex) field or to the Color Selector icon directly.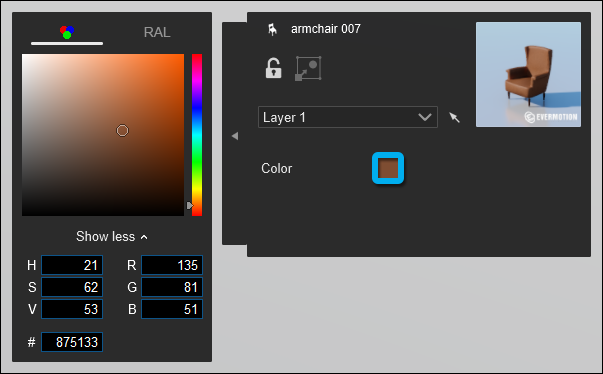 1.18.2: Custom value input
Sliders now have a type-in value. See also the section below: Miscellaneous - 2.23: Sliders.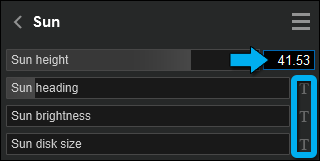 1.18.3: Sliders can now snap to set values
Snapping for rotation-related sliders. For example, all rotation sliders for an object will snap to -180°, -90°, 0°, 90° and 180°.

The Scale slider now has snapping.
1.18.4: Use proxies (Build Mode, Photo Mode, Movie Mode, Panorama Mode)
When speed is of the essence, the new Use proxies setting helps you get the most performance out of Lumion 11 when building large and complex Projects.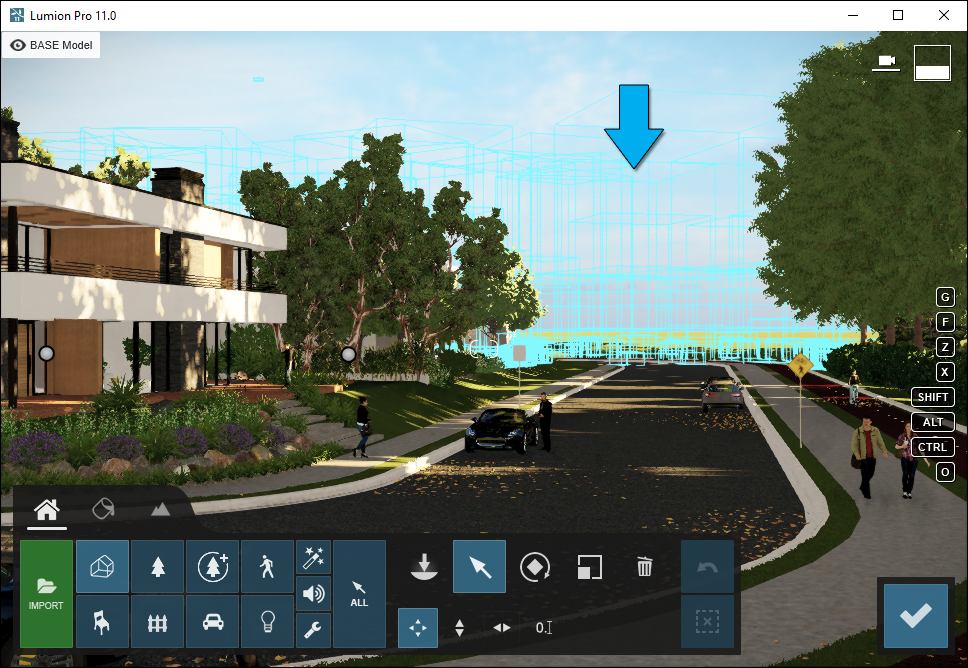 From the Settings screen select:
Off: No Proxies.
On: When the framerate dips below 24 frames per second, objects in the scene will temporarily be replaced with Proxies (turquoise wireframe boxes) to improve the framerate.
Automatic: When the camera moves or rotates and the framerate dips below 24 frames per second, objects in the Project will temporarily be replaced with Proxies to improve the framerate.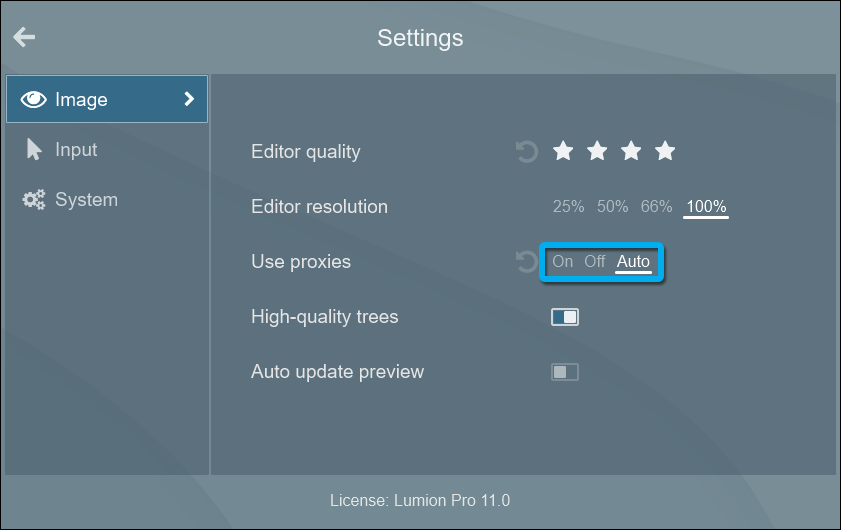 1.19: Foundation change (All modes)
We have always taken a stand on hardware and tech developments, innovating in a direction to allow you to add more life and personality to your renders with breathtaking simplicity. For Lumion 11, some very basic, foundational elements of Lumion have changed, though you won't directly experience these changes in this version.
2. Other new features & improvements
Build Mode
2.1: Nature category objects
In Lumion 11, the option to Pitch and Bank has been added, just like you can do with Fine-detail nature objects.

2.2: Mass Placement
Mass Placement: The Force Height On Landscape option is now enabled by default.
2.3: OpenStreetMap
Buildings: Curved domes have been optimized.
Heightmaps: Better quality Heightmaps have been sourced from ESRI in order to reduce the impact of other objects on the sea level and ground.
2.4: Lights
Omni lights now also include a Nighttime activation option.
The Nighttime Activation start time has been tweaked a little so that it starts with a slightly higher sun position compared to earlier versions. It now starts at an angle of 3.5° instead of 2.5°.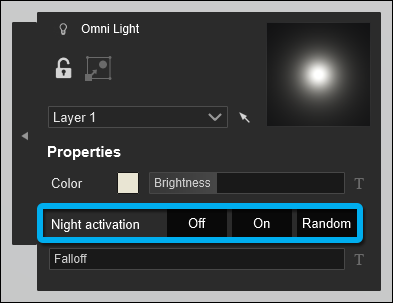 2.5: Randomize size
You can now set a custom value between 0% and 50% as the Randomize size value.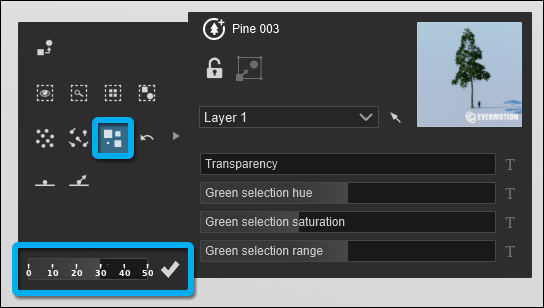 2.6: Layers
Clicking on a hidden Layer will unhide the Layer and also make it the selected Layer.
This now has the same behavior as a Layer that was unhidden - it will be selected.
Note that this works when you click on the Layer name and not on the Hide/Unhide button.
Movie, Photo, and Panorama Mode
2.7: Converting thumbnail images is no longer required (Photo Mode)

Entering Photo Mode will no longer show the 'Converting thumbnail images' screen when Photos are created outside Photo Mode by using the CTRL + 1 2 3 ... 0 hotkeys.
2.8: Visual feedback when storing a Photo in Build Mode (Build Mode, Photo Mode, Movie Mode, Panorama Mode, Theater Mode, and Record Mode, and any edit mode within Effects)
As visual feedback, a screen flash is now shown consistently for any screen where it is possible to use the CTRL + 1 2 3 ... 0 hotkeys to take a snapshot with the camera.

2.9: Drag and drop camera Keyframe slots (Movie Mode: Clip Editor)
You can now rearrange camera Keyframe slots by drag and drop in the Clip Editor as you do in the Movie Editor.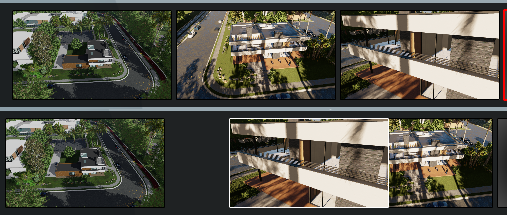 2.10: The Lumion camera can now be set to vertical - 90 degrees (Build Mode, Photo Mode, Clip Editor Mode, 360 Panorama Mode)
The camera can now look completely up or down achieving a 90-degree vertical angle. In previous versions, this was limited to 85 degrees.
2.11: Improved near clipping
Improved near clipping. It will only take the height of the Lumion Landscape into account that is above 0 meters/feet.
Material Editor
2.12: Textures
Textures are now automatically converted internally to .DDS format with BC7 compression for better performance and more efficient graphics card memory utilization.
The automated conversion happens when:
Importing a custom texture for materials and Effects.

Importing a model with embedded textures.

Loading an .LS Project file. Only textures that are embedded in Imported Models will be converted.
And provided that the following conditions are met:
The texture is not a .TGA or .DDS file.

The texture width and height are between 256 and 16,384 pixels.

The texture width and height are divisible by 4, for example, 600 x 880 pixels.
2.13: Standard Materials
The Gloss slider now has a broader range between the maximum Gloss and minimum Gloss values. This mostly affects the lower end of the slider range.

2.14: Material Library
The 50 MB file size restriction for Video Textures has been removed.
The Material Library opens much quicker when selecting a surface compared to Lumion 10.5 for Imported Models with many surfaces.
3D Grass Material and Fur Material: The tessellation of surfaces used for these materials has been optimized. Depending on the surface, this can potentially save thousands of 3D Points compared to the older Lumion versions.
2.15: PureGlass Material
Force Rain Streaks: When the Precipitation Effect is applied to a Photo, Clip, or Panorama Viewpoint this property will allow the glass surface to:
Always receive raindrops,

Receive raindrops for only parts of the surface not blocked by other geometry,

Never receive raindrops.
See also 1.3: Rain streaks.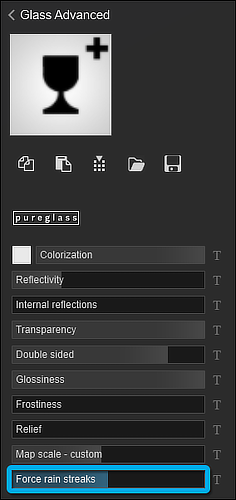 Importing & exporting
2.16: A complex newly Imported Model will be deselected.
After importing and placing an Imported Model containing more than 1 million 3D Points, the model is no longer automatically selected in Place Mode.
Loading & saving
2.17: Merge for Photos, Clips and 360 Panoramas.
It is now possible to add Photos, Clips and 360 Panoramas to the current Project or to replace the ones in the current Project. The interface has also been updated to allow for a separate Merge of Photos, Clips or 360 Panoramas.
Effects:
2.18: Automatic numbering for Effects
Some Effects like Variation Control and Animate light color can be applied more than once in the Effect Stack. For easier identification, the Effects will be numbered, instead of having the same name for every instance of the Effect.
2.19: Reflection Effect
The Water Material, the Ocean and Water Planes are now reflected in Planar Reflections.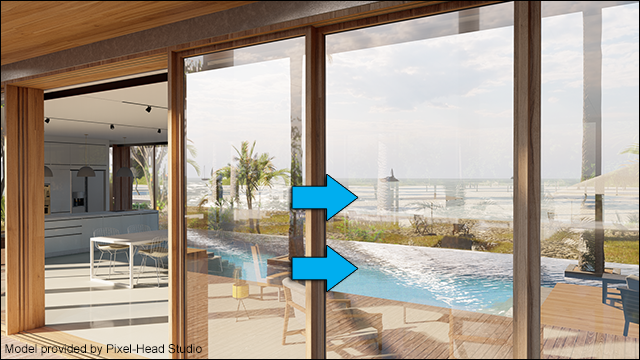 New example Projects and Templates
2.20: Example Projects
Lumion 11 includes 6 new Example Projects and 3 existing Example Projects have been significantly revised.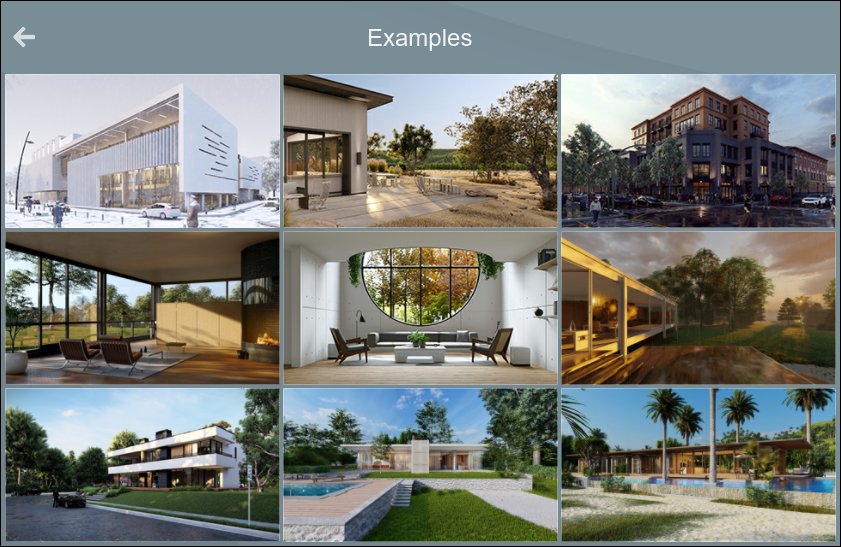 Learn about:
Museum development

Winter settings and showing life with animated people.

Valley winery:

Animated Phasing Effect and creating a crisp autumn setting, use of Styles.

Downtown development

Urban scenes, animating people and cars, and evening lighting.

Beach house

Oceanfront settings, interior, and exterior lighting, and crafting a beautiful sunset.

Glass House

Outdoor vistas, Volumetric Fire, lighting, and more.

Villa in Casale

Residential environments, poolside views, and using the Lumion Content Library.

Villa Cabrera

Sketch effects, Orthographic views, and crafting a sunny day.

Residential home

Photo matching and animating cars and people.

Farnsworth house

Weather Effects, rain streaks, orthographic views, and sketch outlines.
2.21: Templates
In addition, 3 new Templates have been added: beach, desert, and winter.
The white template now has a white sky and a preconfigured Photo.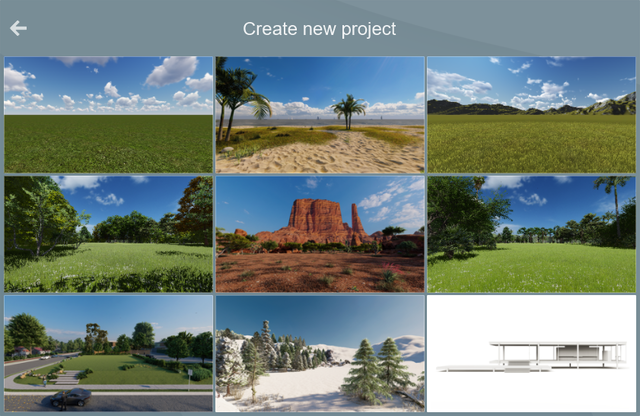 Miscellaneous
2.22: Sliders
Values from sliders can now be copied to and pasted from the clipboard (CTRL + C and CTRL + V).
Undo/Redo (CTRL + Z and CTRL + Y). When you do something else than editing the slider, the undo stack will be reset.
A dedicated type-in value button has been added next to sliders (see also section 1.18.2 Custom Input Value).
Snapping has been implemented (see also section 1.18.3: Sliders can now snap to set values).
2.23: Interface
The model file path is now displayed when you place the mouse cursor over the model name in the Object Properties window: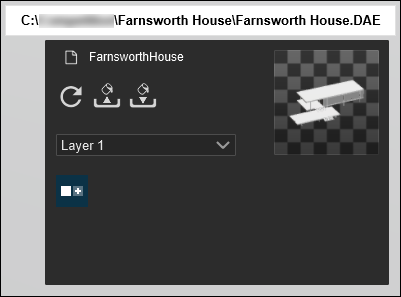 2.24: Performance boost
Some users might benefit from the 'Hardware-accelerated GPU scheduling' that was introduced by Microsoft in the Windows 10, 2004 update (also known as the May 2020 update).
Enabling this feature can improve render times in Lumion 11 and newer versions by up to 20%.
Complex Projects typically gain the most from this feature.
To learn how to benefit from this feature, please check if your system meets the requirements in section 5 in the article below:
2.25: Benchmark
The Lumion Benchmark has been revised to reflect the new minimum and recommended levels of performance for the system.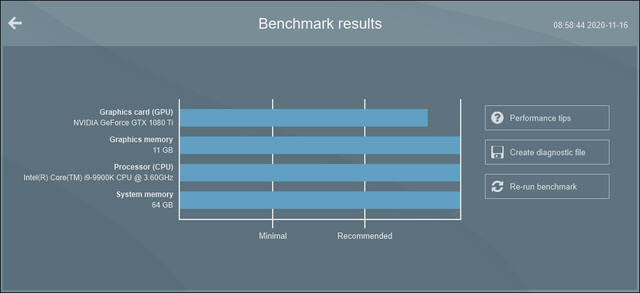 2.26: Download Manager
The Download Manager has a new interface and now downloads larger files instead of merging many smaller files every so often. This should help avoid some issues with antivirus software blocking file parts. The download speed has also improved in most cases.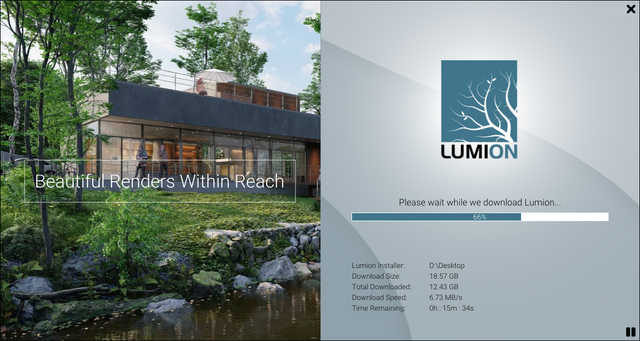 3. Changes & Resolved Errors
3.1: Build Mode and Object Library
Theater Mode: You can now enter Theater Mode via Build with Effects using the function key F11.
Mass Placement: The text capitalization in the tooltip for Force height on ground has been amended.
Fine-detail nature trees: When the Setting for High Quality trees is disabled and a Fine-detail nature tree is on a hidden Layer, the low-detail 'billboarded' representation of the tree is always hidden.
Build with Effects: The position of the Reflection Control object is now correct.
Build with Effects: When entering Build with Effects, Select Mode on the Toolbar is active by default.
Camera: For the Near Clipping Plane the camera will now only take the height of the Landscape into account that is above 0.00 m. The camera adjusts the Near Clipping Plane to minimize surface flickering (Z-fighting) issues by decreasing the distance between the Near and Far Clipping Planes, with the assumption that if you are high up in the air with the camera, you will want to see far away, where surface flickering issues will occur.
The Wind Direction and Wind Speed sliders from the Ocean settings interface in Build Mode --> Landscape have been moved to Build Mode -> Weather.
Wind: Wind Direction and Wind Speed are now global and will affect the following objects:

Ocean

Landscape Grass

Trees and most plant objects

Fine-detail nature

objects

Leaves Materials (and Standard Materials with Foliage).

3D Grass Material

Groups: Loading Groups will no longer snap to the world center (0,0,0) after you previously canceled the loading of a group.
Groups: Place object on nodes is now disabled when editing a Group.
Landscape Grass: It is no longer possible to accidentally change the thumbnail images of the scatter objects (rocks, flowers etc).
Shadows: Shadows are now updated in an improved way in Build Mode when Projected Reflections are updated.
Ocean: The vertical offset on the border of the 2x2km terrain and the 10x10km has been removed.
Landscape > Height: The rate of change when using the Smooth tool has been increased.
Weather Mode: The area around the Sun height gizmo where the mouse over is detected is larger relative to the button/gizmo to ensure that the position of the sun can be adjusted easier.

Animated people & animals: These objects can now still be selected when the camera is very close, even when the camera is intersecting the model.
Object library:
Thumbnail size toggle button: A new toggle button had been added to the Object Library interface so you can switch between large and small thumbnails. Previously in Lumion 10 and older versions, the toggle button was in Settings.
Spotlights: You can now hold down the ALT key with the mouse cursor over the Spotlight thumbnail image in the Object Properties window to see the top-down preview of the IES light profile.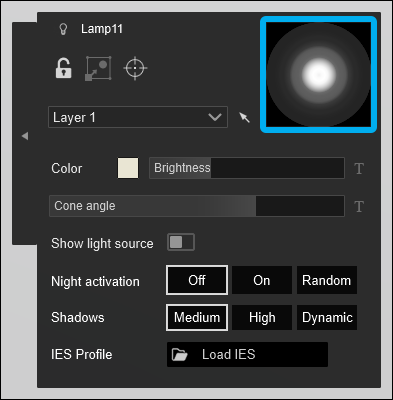 Spotlights -> Target Lights: A Cancel button has been added to this function and you can now also use the Escape key to cancel the Target Light.

People - 3D - Static: A new subcategory in the People and animals category with static high detail character models has been added.
People - 3D - Static: Old static girls and boys character models have been moved to this new Category.
People - 3D - Silhouettes: The color for the models in this category are now gamma corrected.
Weeds: These new models were added to a dedicated Weeds subcategory in the Nature Category.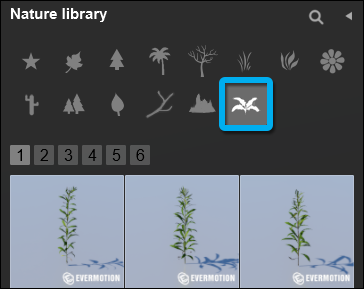 The darkness and glossiness of some objects were adjusted. Some object libraries might look a little bit different due to tweaks in the renderer. Dark colors are a bit darker. Bright objects will look similar. Glossiness is calculated a little differently which can make some objects appear a little bit more shiny or dull, depending.

Replace Selection

: An

Object

replaced with one from the

Object Library

will retain the settings it had previously, rather than being reset. For example, its

Color

and

Night Activation

settings. This applies to

Lights, Vehicles, Nature, Indoor, Outdoor, Sound

.

The indoor object teapot_008 has been renamed to electric_tea_kettle_001.
An issue where the shadow cast by an object from the Content Library would not use the transparency mask if any was in the model has now been resolved.
Utilities - Measure Tool: All nodes in a measurement object will move to the same Layer when you change the Layer for one of its nodes.
Smoke Effects

objects now show better when they are being moved around with the mouse cursor.

Outdoor Category -> Outdoor Object Icon

:

A new matching icon has been created.
3.2: Photo Mode, Movie Mode & Panorama Mode
Photo Mode
A very rare issue where opening an .LS Project file and entering Photo Mode would get stuck at the All photo thumbnails have been created screen has been fixed.
Movie Mode
Theater Mode: It is no longer possible to enter Theater Mode using the hotkey F11 when there are no Clips in Movie Mode.
Movie Editor Timeline: It is no longer possible to drag the time position before the start of the timeline.
Mass Move Effect: Wheels from cars now rotate in the correct direction for all vehicles.

The

Sky Drop Effect has been replaced with the Animated Phasing Effect (but is still available for existing Projects prior to Lumion 11).
Photo & Movie Mode
Custom Output Maps

->

People - 3D - Silhouettes: Static silhouette models of people and animals are now included in all Custom Output Map types.
Photo Mode, Movie Mode & Panorama Mode
Fine Detail Shadows

are now disabled in

Preview

when the

Editor Quality

is set to no shadows in the

Settings -> Image -> Editor Quality -> 1-star (Low quality)

.
3.3: Materials
Standard Material: Transparency is now rendered at full quality when creating a High-quality Preview for Photo Mode, Movie Mode, and Theater Mode.
Standard Material: The Displacement slider value will now reset to 0 as expected when deleting a Custom Displacement Map.
Standard Material: The tooltip now shows the name of the imported .MP4 file for Video Textures.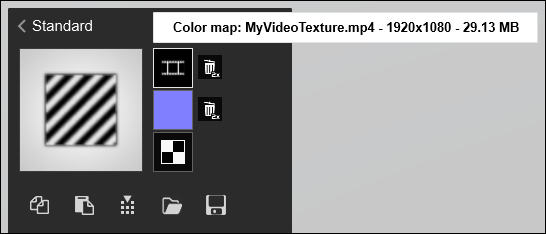 Imported texture: Importing extremely large textures from 24,576x24,576 pixels and up, no longer results in resize errors and/or crashes.

3.4: Effects & Styles
Mass Move Effect: The playback performance in Movie Mode has been improved.
Reflection Effect: It is now possible to change the Reflection Threshold when editing the Reflection Planes.


Featured Effects: The interface for selecting an Effect has been updated: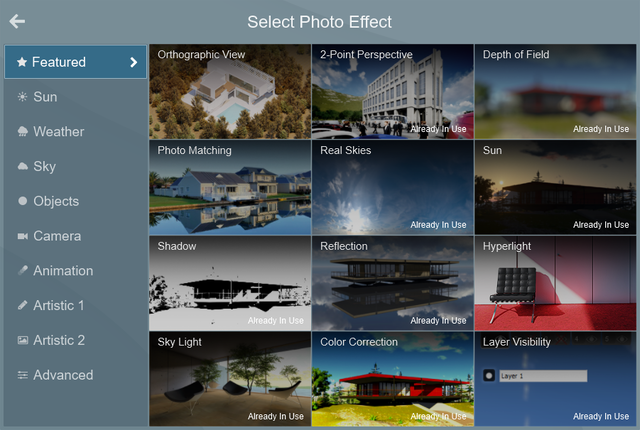 Reflection Planes from the current Project are now cleared when opening a new Project.
Fine-Detail nature objects are now reflected correctly in Planar Reflections.
Precipitation Effect: When Blocked by plants is set to 0, precipitation is now completely unblocked.
Cartoon Effect: Outline transparency and Fill to white are now unlinked from each other when one of the two is keyframed.
Shadow Effect: It is now possible to type in the Sun shadow range. using the Type In value field or by double-clicking the slider.
Shadow Effect: The minimum Sun shadow range is now 100m/328 feet. Previously it was 156m/511.8 feet.
Sky Drop Effect: This has been removed. The Phasing Effect now has a sky drop function among many other effects. Loading older version Projects with the Sky Drop Effect still works as it used to. We recommend updating the animation to using the new Phasing Effect where possible.
Styrofoam Effect: When the Effect has been removed from the Effect Stack, the Projected Reflections in the preview will now update.
Real Skies Effect: The Real Skies thumbnail image in the Effect shows the correct logo.

Reflection Effect: Reflection planes are now assigned properly to Water Planes when they have been scaled.
Blueprint Effect: The Grid Scale now matches world sizes and is now in the range of

0.1m to 10m (0.3281 ft to 32.81 ft).

Water Effect: Disabling the Underwater or Ocean setting no longer darkens the Lumion Landscape.
Sky and Clouds Effect: The Cloud direction slider now uses degrees (-180 to 180).
3.5: Save, load, and recovery
Merge: Merging Clips will no longer create black thumbnail images for those Clips.
Merge: Merging now reports the correct number of cameras per category (Photos, Clips, Panoramas).
3.6: Importing and Exporting
Removing a model from the Imported Model Library and then re-importing the same-named model again in a Custom Category now works correctly.
.DDS texture files: Lumion no longer crashes when importing an invalid .DDS texture. Instead, it will show a warning message and then not load the texture.
Lumion now respects the aspect ratio of a texture when it is automatically resized if the width or height is larger than 16,384 pixels.

Import error screen

: The correct Lumion Support webpage address is now displayed in case of import errors

.

It is no longer possible to use third-party SpeedTree models in Lumion by placing them in the Trees folder.
The Lumion LiveSync for Revit plug-in no longer supports Revit

2015.
3.7: Miscellaneous
Windows version: Lumion 11 will only run on the Windows 10 operating system.
Graphics card driver version check: When starting Lumion, the driver version of the graphics card are checked. For NVIDIA graphics cards it checks if the drivers are at version 416.16 or newer. For AMD graphics cards it checks if the drivers are at version 18.8.2 (Adrenalin) or newer. This is required for compatibility with Lumion 11.0 or newer.
Crash Report: When Lumion crashes it now creates a crash file and will give the user the option to send the crash file, and (optionally) a description and a contact email address.
Microsoft VC Redistributable: Lumion 11 now has only one Microsoft VC Redistributable (Redist2015-2019) package instead of multiple separate packages (Redist 2008, Redist 2010, Redist 2012, Redist 2015 and Redist 2017).
AMD graphics cards: The view does not turn black anymore when the camera moves close to the tree-cluster objects TreeClusters2_Broadleaf_Circle and TreeClusters2_Pine_Circle.
Lumion Installer

:

Lumion banner scaling is now working for 4K screens.

A new thumbnail image for the

Questionmark

objects has been created.
3.8 Interface:
Camera Guide: In Photo, Movie, and Panorama Modes the camera guides (rule of thirds) will be shown when adjusting the camera by using the middle mouse button. Previously, in version 10, it was only when holding down the right mouse button.
Create a new Project with Import a model: The Import Model option has been removed.
Main Menu: The `?` icon for onscreen Help now also functions as a button to start the Guided Tutorials in Build Mode. In all other modes, it will pop up a window with a link to Lumion online video tutorials.

The

Paint Tile Size slider in Landscape Mode now has a title.

Various minor interface changes.
3.9: Features also now in Lumion 11 (Standard)
These are features that were available previously only in Lumion Pro.
Effects:
Real Skies Effect: The nighttime Real Skies.
Photo Matching Effect.
Variation Control Effect.
Tilt Shift Effect.
Outlines Effect.
Build Mode - Object Library:
Grid.
Measure.
Text Simple.
Importing:
Imported Models: The option to add Variations.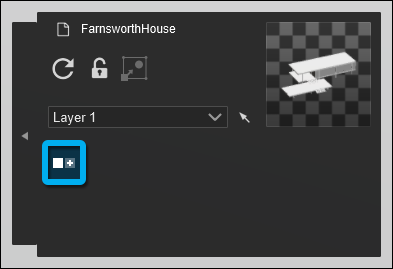 From the Team:
Enjoy learning and using Lumion 11.