During installation you might get an Installation error: 'Error 5: Access is denied'.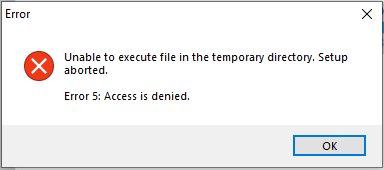 As the error message says, something is preventing the Lumion installer from running and getting access to the folders it needs.

That 'something' is usually a lack of Windows permissions, overzealous anti-virus/security software, or cloud back-up software that's locking the installation files.
Here's how to fix the error:
Please follow the instructions in Section 4 in the following article:
Applicable to:
All versions of Lumion and all versions of the Download Manager prior to Lumion version 12.3, unless you have been issued the v2 installer directly by us in Technical Support.