1. Here's how
1.1: The OpenStreetMap functionality in Lumion requires a direct HTTP connection to the domains in 1.2 below.
If a proxy server is used, a direct connection is not possible, and the OpenStreetMap function in Lumion will not work.
Please click on the following link to check if you are accessing the internet via a proxy server:
If so, please ask your IT administrator to disable the proxy server if you would like to use the OpenStreetMap functionality. Alternatively, please contact your internet service provider for information on how to disable proxy servers.
1.2: Please make sure that Lumion is allowed to access the following addresses and ports through your network router, anti-virus software and firewall software:
osm-tile-service.lumion3d.net (port 443)
lumiondemdata.lumion3d.net (port 443)
atlas.microsoft.com (port 443)
*.mapbox.com (port 80)
*.osm.org (port 80)
*.openstreetmap.org (port 80)
1.3: If this does not resolve the problem, please download the following small test app which will show you which addresses the OpenStreetMap function is being prevented from contacting:
1.4: Unzip OpenStreetMapConnectionTest.exe and place it in your Lumion (Version) installation folder, right-click on it and select 'Run as administrator' to run it: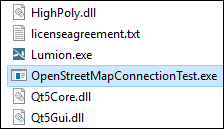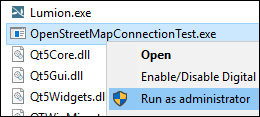 1.5: When the test is finished, a .TXT log file has been created in the same folder with more details about the websites that Lumion is being prevented from accessing. Please forward the .TXT file to your IT administrator, so that he/she can ensure that Lumion is allowed to contact the blocked addresses.
Alternatively, please contact the manufacturer of your security/firewall software for information on how to whitelist websites and open ports.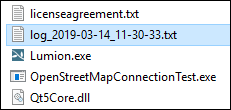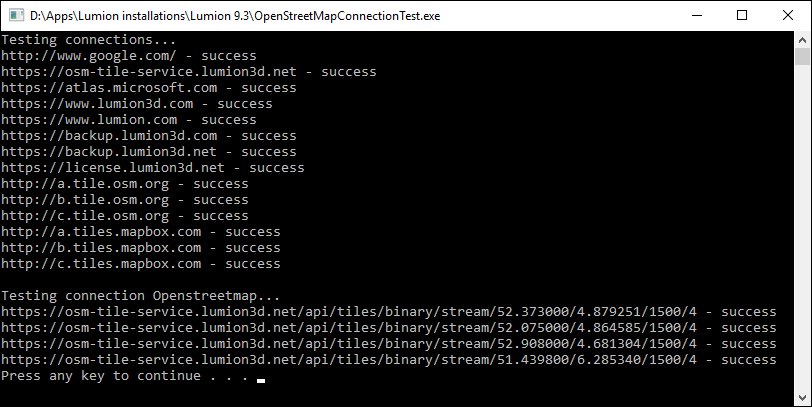 See also:
Knowledge Base article: Which domains and ports does Lumion need access to?