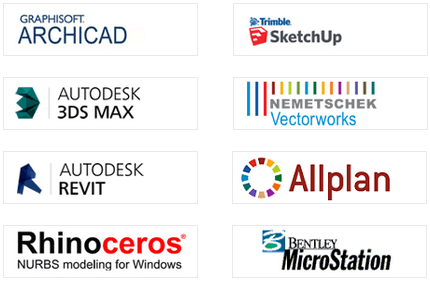 1. Follow the model import guidelines
1.1: First, please make sure that you have followed the guidelines in our Model Import Guides.
1.2: If the problem persists, please search for a solution to your problem at the Lumion Support Center.
1.3: If you can't find a solution, please proceed below.
2. Post a topic requesting help
2.1: Access to support:
Registered licensed users can post to this Importing Models Question board.
Unregistered users with a License Key should follow these steps first:
Knowledge Base: How do you get technical support?
Then return here to follow the steps below from 2.2.
Other users should post to a board in the section they have access to.
When posting an import/export question, please always include the following information:
2.2: Lumion product and version:
Product and version number (see the

Settings

screen in Lumion).
For example Lumion 9.0 Pro.
2.3: CAD software and version number:
For example Revit 2019 or SketchUp 2018.

2.4: Import file format in Lumion:
For example .SKP, .FBX or .DAE format.
Or

LiveSync

export.
2.5: Export plug-in version (if applicable):
Click on the Help button (Lumion logo) to see which version it is.
The example below is from SketchUp: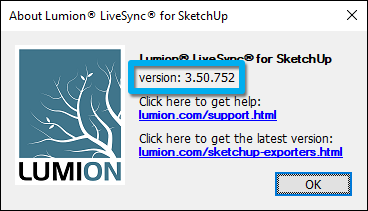 2.6: Export plug-in settings:
Click on the

Settings

button - or the

Export

button depending on which CAD software you are using and whether you are exporting the model via

LiveSync

or not:
SketchUp: Export settings:

Revit: Export settings (Hold down the Shift key while clicking on a settings button):

Attach a screenshot of the settings window (the example below is from Revit):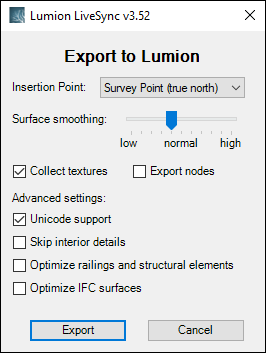 2.7: The name of the exported Scene or 3D View:
If you are exporting your model from Revit, please tell us the name of the

3D View

that you are exporting to Lumion.
If you are exporting your model from SketchUp, please tell us the name of the

Scene

that you are exporting to Lumion (if applicable).
2.8: A clear description of the problem:
2.9: Relevant files:
Please click here to upload the files that are causing problems.
This is typically the original model file(s) (.RVT, .MAX, .SKP etc) as well as the exported file(s) if applicable (e.g. .DAE, .FBX etc).