1. Model import guidelines for Daz Studio
Please note that Lumion does not officially support Daz Studio.
1.1: First create your character with no lights, camera or anything other than the character. Make sure it is placed at the center. Pose your character the way you like.
1.2: Go to Export and select OBJ, copy the options as seen in the screenshot below and save the .OBJ file.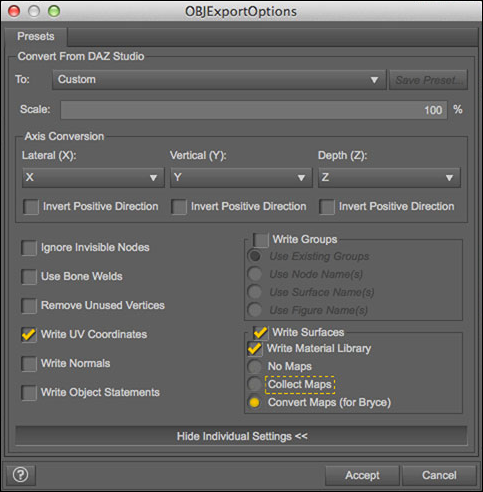 1.3: Go to the folder you saved the .OBJ file in. Open the .MTL file in Notepad and find and replace /Maps/ with nothing. Do the same for /convertedMaps/. Save the file.
1.4: Go back to the folder where the model is saved. Select the .OBJ, .MTL file (and any texture files) and move them inside the Maps folder.
1.5: Open up Lumion and import the .OBJ file.
1.6: Wait about a minute while it imports.
1.7: Click on Edit Materials. Click on the whites of the eyes and assign a Standard Material to them. Set that to the color white. Click on the middle of the eyes and assign an Invisible Material, so that the texture of the iris is visible. Assign a Standard Material to the eyelashes and to any other parts of the model you think would benefit from Lumion materials.