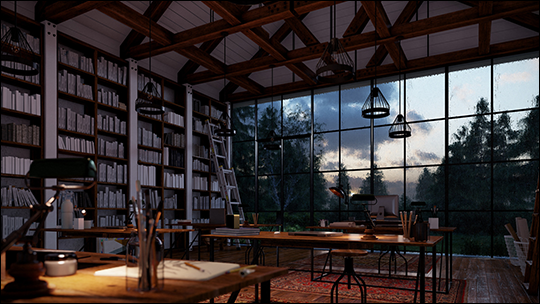 1. Here's how
If you try to import a model that is too detailed for your computer, it might take a long time to finish the import process.
To speed up the import process, we recommend the following steps:
1.1: Hide surfaces that are unimportant in your 3D/CAD software before importing the model in Lumion.
1.2: Export the model via LiveSync rather than via .DAE format as it is faster and requires fewer resources.
1.3: Consider splitting up the model in several parts and import them as separate models in Lumion.
1.4: SketchUp
Use the polygon optimizer in the Artisan4SketchUp plug-in for SketchUp to reduce the detail level of your models before exporting them to Lumion:
External Link: Artisan4SketchUp
1.5: Revit
The Surface Smoothing slider lets you define how detailed curvy surfaces should be.
Setting it to the maximum value can have a serious impact on the time it takes to import the model as well as on performance and render speeds in Lumion.
For that reason, we recommend setting the slider to the lowest possible value that still ensures that curvy objects look reasonably smooth.
1.6: Rhino
Use the Density setting to reduce the smoothness of curvy models before exporting them to Lumion:
Rhino top menu -> Edit -> Properties -> Mesh -> Custom -> Density -> 0.0
There is more information on the following page:
External Link: Rhino Mesh Settings
1.7: 3ds Max
Use the ProOptimizer modifier in 3ds Max to reduce the detail level of curvy models before exporting them to Lumion.