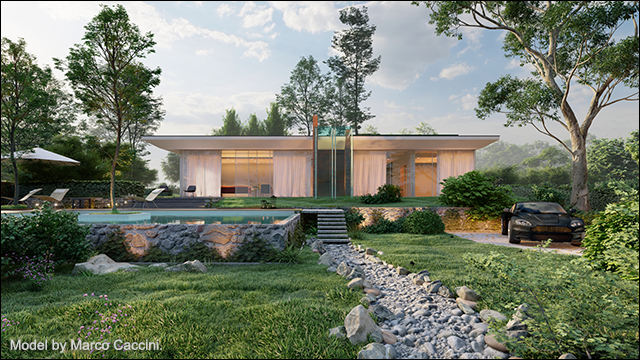 Lumion 10.0.1: Release Notes
Compatibility
Please note that scenes and models saved in 10.0.1 are not backwards compatible with Lumion 9.5 and older versions.

Please click on the following link to see how to open projects from older versions of Lumion:

Knowledge Base: Lumion 10.0.1: Everything you need to know
1. Changes & Resolved Errors
Build Mode
Headlights and rear lights on vehicles are no longer turned off when you leave Select Mode.
Movie, Photo and Panorama Mode
The "Click inside the preview window to update" function for the High-quality preview feature now also registers mouse clicks while the camera is moving. The preview will be calculated once the camera has stopped moving.
The pool of objects in the Mass Placement Effect is now cleared when you start up Lumion.
It is now possible to recreate the same brightness in the Volumetric Sunlight Effect as in Lumion 9.5 and earlier versions.
Movie Mode
When the FX on/off button is turned off while editing a Clip in Movie Mode, the sky now reverts to the sky from Build Mode.
It is now possible to double click on the Landscape in order to move the camera to that position while editing a Clip in Movie Mode.
Miscellaneous
Mouse clicks are no longer being disabled by OneDrive after opening a file dialog window in Lumion. This error was caused by a Windows update (KB4522355) which was released on the 24th of October.
Road signs are now placed correctly in the Villa Van Manen example scene.
The Save button on the 'Welcome to Lumion' screen now shows the time that has elapsed since the current project was saved.
All versions of Lumion 10.0.1 now have their own, unique Windows icons.
Setting the mouse to 'left-handed' in the Windows mouse settings, now works as expected again.
Importing & Exporting
.DWG format:

Planar, Box, Spherical and Cylindrical texture mapping are now imported correctly. However, please note that AutoCAD uses a non-conventional spherical mapping algorithm, so under some circumstances, faces that are close to the 'poles' of the spherical mapping may be incorrectly mapped after importing the model in Lumion. This is a technical constraint.
Rotated textures are now correctly displayed in Lumion.
'ByLayer' materials are now imported correctly.
The naming convention for 'byLayer' materials has been reverted to the way it worked in Lumion 9.5 and older versions, so that the layer name is used as the material name.
Lumion can now import materials, texture placement and colours that are assigned to individual faces.
Mesh tesselation was improved and should now be applied along the correct direction.
Support for "embedded" texture placement coordinates (UVs) and texture mapping has been implemented for .DWG files from other applications than AutoCAD (e.g. Plex.Earth).

.3DS format: Some .3DS files could not be imported due to an error in the FBX SDK used in Lumion 10.0. Lumion 10.0.1 now uses an older version of the FBX SDK to work around this issue.
.FBX format: A user-submitted .FBX file can now be imported with textures.
Lumion Viewer
The Lumion Landscape is now displayed correctly.

Motion blur is no longer displayed when movie playback is paused.

The loading animation is now displayed while a project is being loaded.