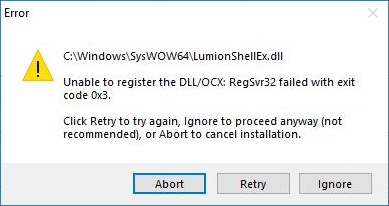 You have downloaded Lumion but you get the following error message when trying to install it.
C/:windows/SysWOW64/lumionShellEx.dll
Unable to register the DLL/OCX:RegSvr32 failed with exit code 0x3
The rare error you are seeing is either caused by insufficient Windows User Account permissions or by overzealous anti-virus software. In other words, it is not caused by the Lumion installer but by something on your PC.

LumionShellEx.dll manages context menu entries when you right-click or double-click on .LS Project files.
Windows or your anti-virus software is not letting Lumion add those entries to the Windows Registry.
Here's how

to fix the error
Before opening the installer:
Make sure that the Lumion installer has full write access to the system via the Windows permissions for your Windows User Account before re-installing Lumion. In addition, you should also whitelist the Lumion installer in your anti-virus software before installing Lumion, so that the error will not occur.


When the installer is still open:
If you click on 'Ignore' Lumion will still work fine but double-clicking and right-clicking on '.LS10' files will not work as expected.


Option after the install:
If you right-click on an .LS10 Project file, choose 'Open with...' and select 'Lumion 10' with 'Always use this app to open .LS10 files' ticked, it will ensure that double/right-clicking on .LS10 Project files work as expected.

Applicable To:
Lumion 9.0 and newer.