You have multiple Revit models linked to one project site. All using the same materials.
When you import the model to Lumion using LiveSync for Revit the materials are changed. For example, each linked model uses the same 'concrete' material. In Lumion one model would have 'concrete', and the other model would have 'concrete 1'. This means you have to reassign the materials in Lumion for each model even though all have the same material in Revit.
1. How to make a single material when exporting using

LiveSync for Revit

:
There is an easy solution.
1.1: Make sure you have the latest version of LiveSync for Revit (3.60.538 or newer). If not, then follow the instructions in this article:
1.2: Open your model in Revit, go to the Advanced Settings of LiveSync for Revit (Shift+Click the gear icon to expand the Settings), and select Merge linked materials setting is checked.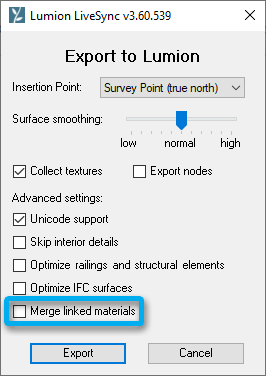 See Also:
Applicable To:
LiveSync for Revit (3.60.538 or newer)