Lumion 12.3: Release Notes
1 March 2022
Compatibility
Please note that Projects and models saved in version 12.3 cannot be opened in older versions of Lumion.
Please click on the following link to see how to transfer settings, models, and Projects from older versions of Lumion:


Features, models, and materials with the asterisk (*) character are only available in Lumion 12.3 Pro.
See the full product comparisons here for Lumion 12 (Compare versions table - Comparison tab):
1. New Feature Highlights
1.1: Volumetric Lights Effect*
Available in Photo, Movie, and Panorama modes.
Omnilights are now included in the Volumetric Lights Effect. This allows for mixing and matching both types of Lights within this Effect.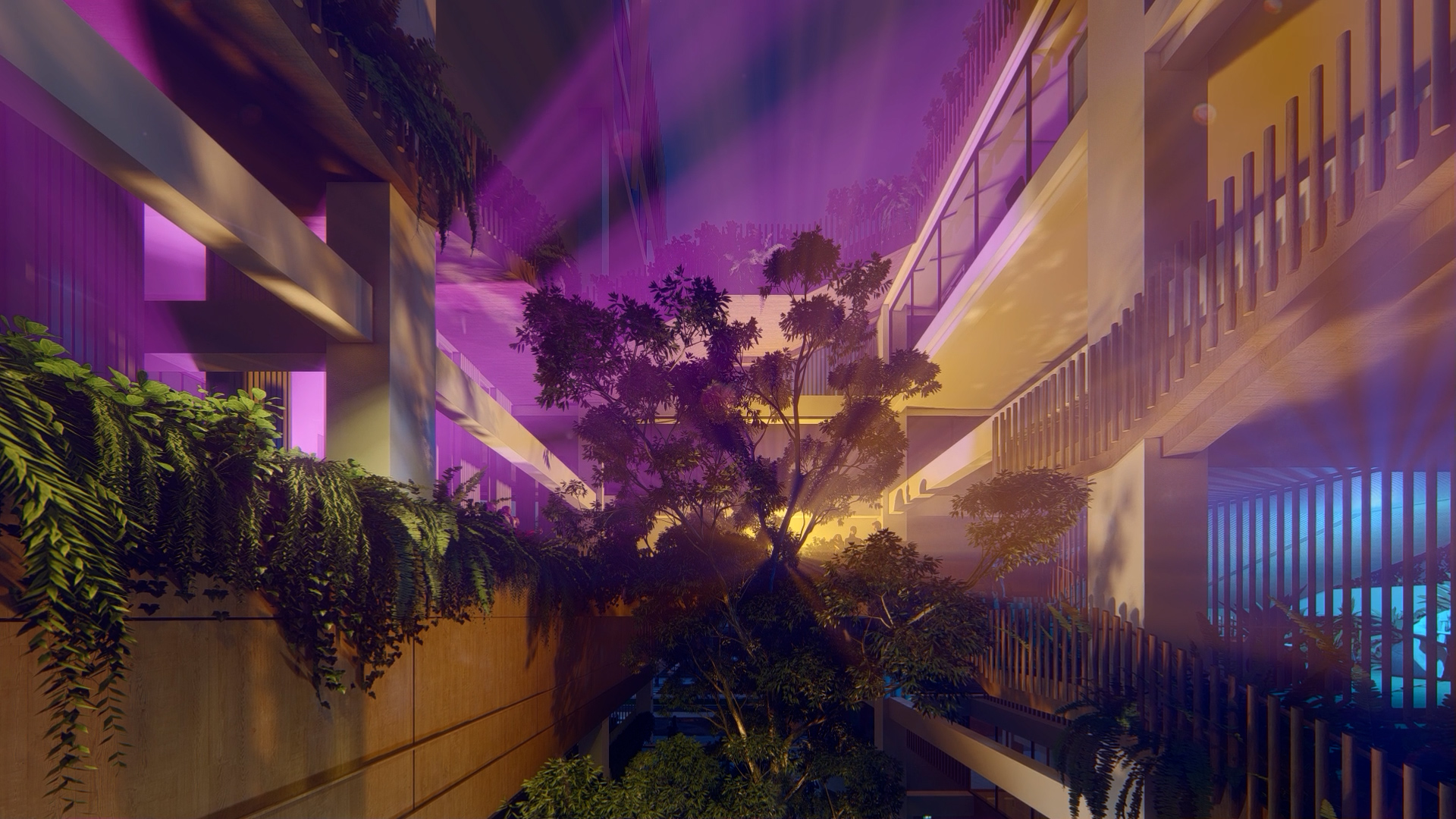 Lumion 12.3 lets you add a gorgeous glow of light to interiors and exteriors with the improved Volumetric Lights Effect. This subtle lighting detail only takes a click, infusing spaces with warm, inviting lights. When used with fog, an atmospheric real sky, or precipitation, you can instantly create a stunning result.
Rendering a foggy, moody night
Visualizing event lighting
Create a cinematic effect to delight clients
Show dust, mist, or steam for interior and exterior shots
Magnify a sense of volume in spaces
1.2: Custom Surface Decals*
In Lumion 12.3, you can now import your own surface Decals to add a touch of your personality and character to the materials.
Simply import a custom image and place it on any surface, and the image will take on all the traits and texture of the material beneath it.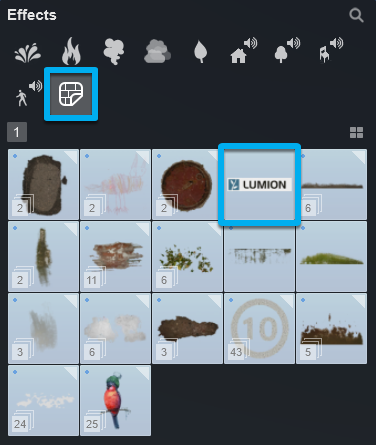 Combine the Custom Decal import feature with other Lumion features, such as Displacement Maps and Weathering, to make your materials even more unique and personalized.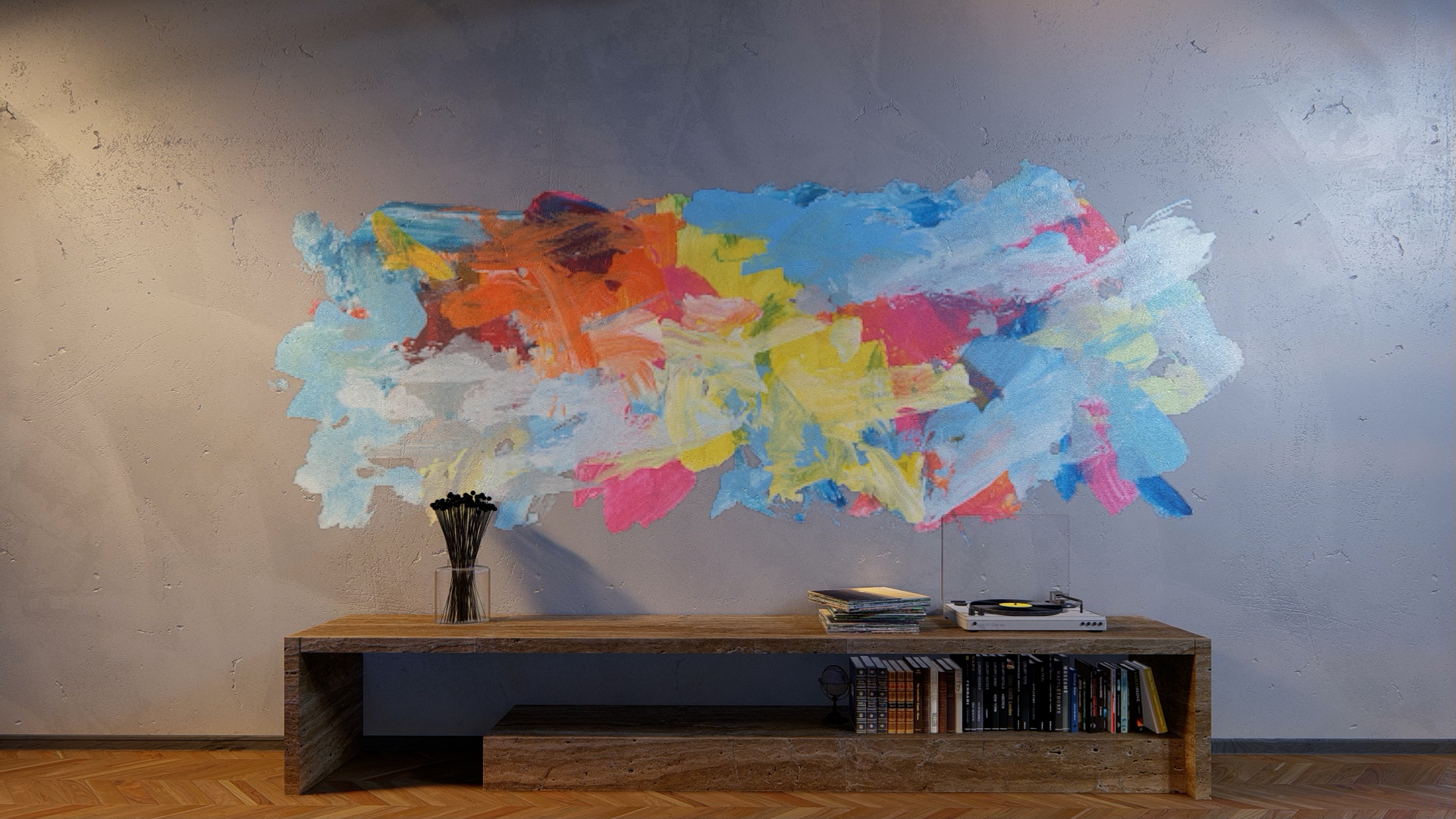 1.3: Custom License plates
With this version, you can also load your own License Plates for vehicles.
Transport Category: Option to add Custom License Plates in this category.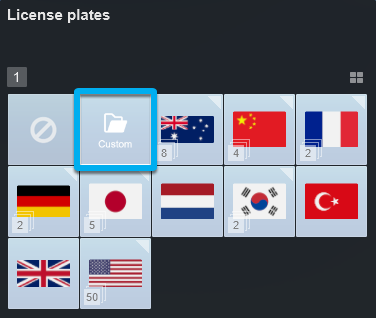 1.3.1 License Plate Sets can be created, saved, and loaded in your Project containing up to 10 different entries with Front and Rear customization available:


A dedicated panel is also available that allows for scaling the plates to the desired size: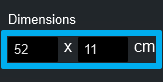 1.3.2 An infobox has been added as a disclaimer regarding the content of the preset License Plates.

1.4: Render multiple Photo Sets
It is now possible to render multiple Photo Sets or a selection of Photos that belong to different Photo Sets. This feature is a workflow boost when a large number of images need to be rendered.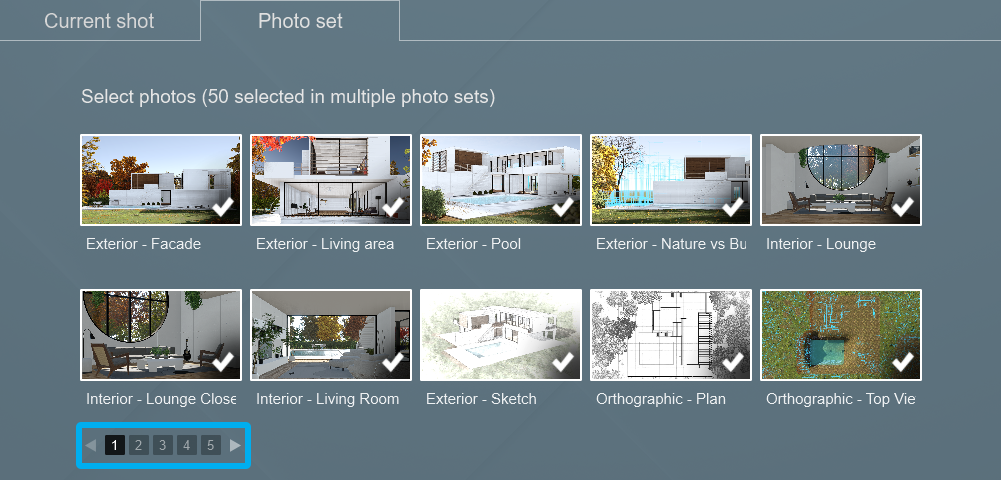 The total number of selected Photos for rendering is displayed under the Photo set label and excluded Photos within a Set will appear greyed out. By default, all Photos are selected.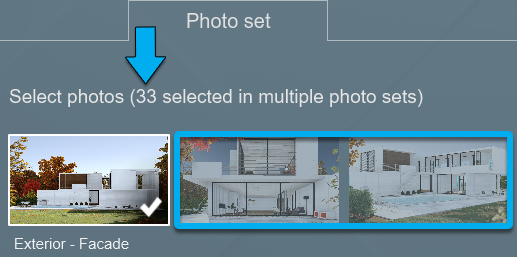 2. Other Features and Improvements
2.1: Build Mode
2.1.1 Layers
Lumion 12.3 now features 32 editable Layers.

2.1.2 Improved Object Library - animated Nature Library
Transform landscapes into living experiences with 110 newly animated Weeds and other Nature objects. These previously static items now move with life, creating the context for more detail-rich, vivid animations.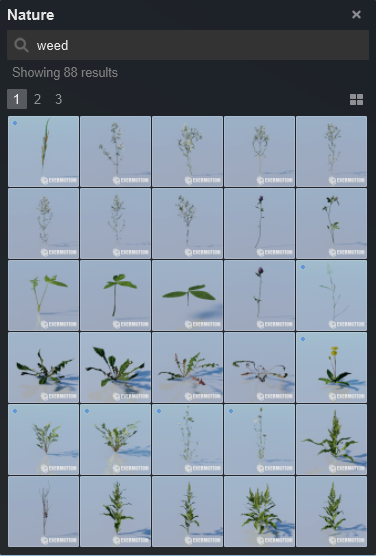 2.2: Importing
A new importer is now being used for .SKP and .DWG files.
2.3: Materials
Standard Material
Waxiness and Transparency: the Waxiness and Transparency sliders can now be tweaked at the same time, instead of just one at a time.

2.4: Example Projects and Templates
Two new Example Projects have been introduced to showcase Lumion features.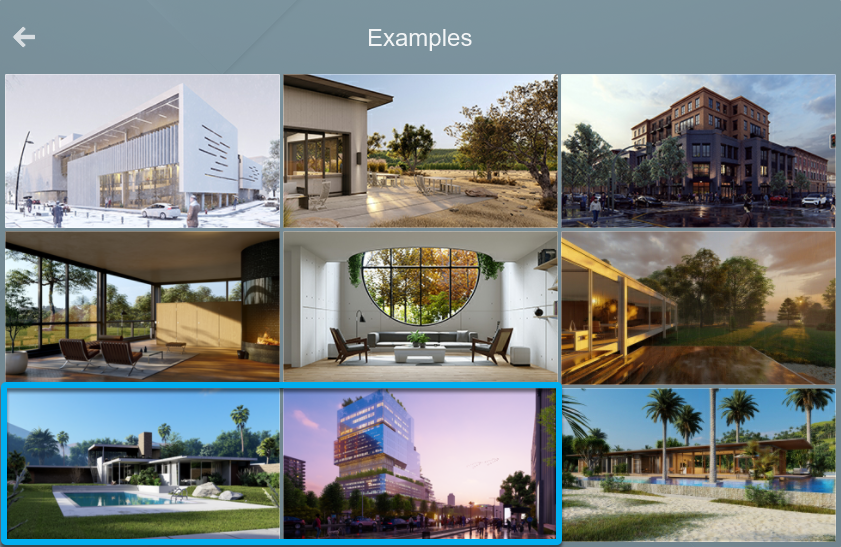 Learn about:
Kaufmann House:

Creating a realistic landscape, atmospheric Effect Stacks, and applying Decals.

Streetscape:


Setting up an urban scene with animated objects and Volumetric Lights.
2.5: Miscellaneous
Drag and Drop
It is now possible to drag and drop .LS12 files into Lumion to Load or Merge them in your Project. This can be done both in Build Mode (Content Library Mode) and on the Welcome Screen after a Project has been loaded.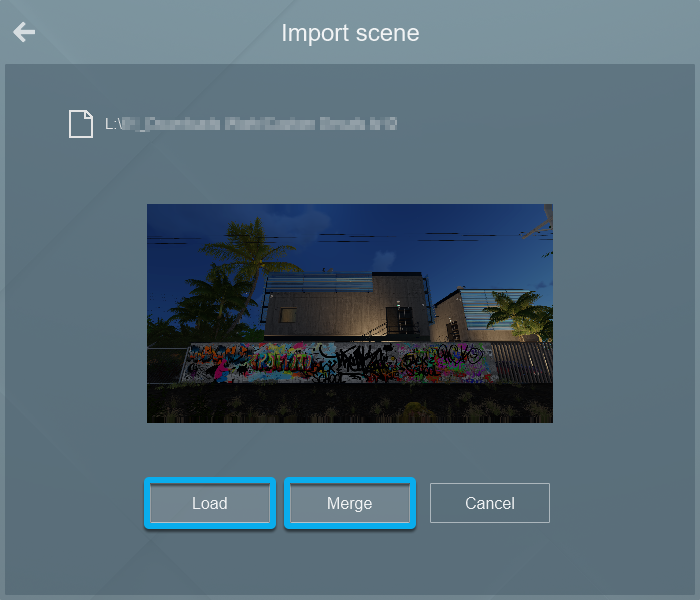 Models can now also be imported by dragging and dropping them in Build Mode.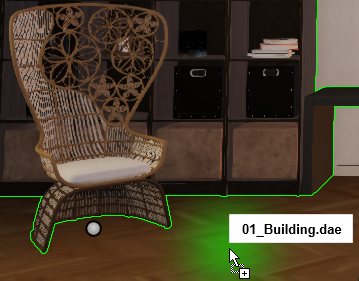 3. Other Changes & Resolved Errors
Build Mode
3.1: Objects and Object Library:
3.1.1 Search function:
Using two search terms ('new ...') now returns the correct objects instead of skipping the second search term. Example: new chair: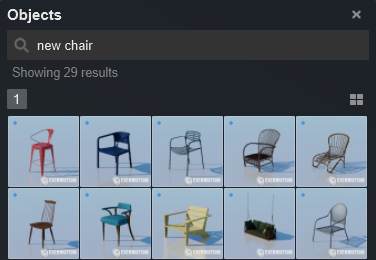 3.1.2 License Plates:
The Front and Rear of the UK License Plates now have different colors:

3.1.3 Object Library:
Effects -> Decals: Selecting multiple Decals with different orientations no longer resets their Rotation.
Effects -> Fountain Objects: the Brightness slider now works as expected without having to change the color.


Utilities -> Landscape Cutter: The Control Points are now displayed only when a single Landscape Cutter Object is selected.


Various Objects: Fixed the materials so that the correct shading occurs for some Objects in the Library that had a broken material.
Various Objects: Fixed the materials so that certain Objects no longer have a metallic finish.


Various Transport Objects: The Show driver toggle is no longer displayed for Objects that do not have a driver.
Various Transport Objects: The Metallic slider has been removed for Objects that are not affected by it.
3.1.4 Lights:
Spotlights: the Custom IES Profile names are now displayed correctly and fit the User Interface.
Area/Line Lights: modifying the values for Width, Length, and Falloff when multiple Area/Line Lights are selected will now update for the whole selection.
3.1.5 Layers:
Move selected Object to Hidden Layer: Lumion no longer becomes unresponsive when a selected Object is moved to a Hidden Layer unless the right mouse button (RMB) is clicked.
Hidden Layer visibility: selecting a Hidden

Layer in Build with FX no longer makes it visible when returning to Build Mode.
Build with FX: The Layer states from the Layer Visibility Effect applied to Photos, Clips, and Panoramas are now respected when entering Build with FX.
3.1.6 Groups:
Group collision: A Group should no longer intersect with an invisible copy of itself when placing it in the Project.
Move Objects in Group: The Move Gizmo has been removed when selecting objects within a Group since those objects could not be moved.
Group creation: When creating a Group, the UNDO action is now reset.
Group editing: UNDO actions have been added for Move, Rotate and Scale during Group editing.
3.1.7 Landscape:
Height: the position of Imported Models on Hidden Layers is now updated when changing the Landscape Height to keep the same relative distance between the two.
Height: the camera is no longer affected by incorrect collision data after switching from Landscape Height to Movie Mode.
3.1.8 Other usability improvements:
Space Objects Evenly: this feature now measures accurately the distance between Objects from their Insertion Point.
Replace Selection: The Insertion Point no longer displays a small offset from the real center of the Object.
Place Item on Nodes: If no Object is selected in the Library to place, the OK button will not be displayed.


Performance Monitor: Fine-detail Nature and Sound Objects are now counted by the Performance Monitor and displayed under their main

Category

(Nature, respectively Effects).
Performance Monitor -> FPS counter: the FPS no longer drops considerably when selecting multiple Objects within the

Transport Category

.
3.2: Materials:
Materials -> Standard Material: when holding Shift to adjust the Transparency the slider now changes the values rounded at the closest 0.01.
Materials -> Standard Material: .PNG transparency is now displayed correctly.
Materials -> Standard Material: The Flip Normal Map Direction button is displayed after adding the Material to the Custom Materials list.
Materials -> 3D Grass: The mesh tesselation of the surfaces where the 3D Grass is applied has been improved for efficiency and to prevent missing mesh triangles.
3.3: Importing and Exporting
Camera LiveSync: Certain models could be rather slow when syncing the camera. This process has now been improved and the camera sync should be much snappier.
.FBX format: Geometry normals are displayed as expected and no longer flipped for Objects that were imported after being mirrored in the original 3D modelling software.
.OBJ format: Imported Models originating from SEMA are now imported at the correct scale (meters).
3.4: Photo Mode, Movie Mode, Panorama Mode
Emissive Materials with Transparency are rendered correctly in Print/Poster Resolution. In previous versions, the Emissive value would be ignored.
Light Objects which were previously selected while editing Effects (Global Illumination, Animate Light Colors, and Volumetric Lights) no longer remain selected in the Preview after the editing is finished.
Thumbnails are no longer black when Projects contain 3D Text Objects.
Titles are no longer display briefly the name of the previously selected position.
Output extensions: known file extensions on a PC no longer overwrite the extension of the rendered Photo/Clip/Panorama.
3.4.1 Photo Mode
Context Menu: Photos in Photo Set 2 and higher can now be deleted from the Context Menu.
Entering Photo Mode: when Thumbnail creation fails, Lumion will skip generating the Thumbnails.
3.4.2 Movie Mode
The 'Click inside the preview to update' message flickering has been addressed and doesn't occur when scrolling through the Clip Set.
'Image from file' and 'Movie from file' have been renamed to 'Clip from image file', respectively 'Clip from Movie file'.
3.5: Effects & Styles
Orthographic View Effect:

Volumetric Lights are now correctly rendered in orthographic projections.
In 3D View, Horizontal Eye Level now behaves as intended.

Volumetric Lights Effect:

The selected lights are now correctly rendered in Planar Reflections.
The selected lights are colorized by the glass when they are placed behind a PureGlass Material.

Material Highlight Effect: 2D Characters and Character Billboard Objects no longer mask this Effect.
Phasing Effect: The MOUSE WHEEL can now be used to navigate through pages.
Global Illumination Effect and Reflection Effect: Landscape Grass is now visible when using those two Effects at the same time.
Layer Visibility Effect: Visible Layers in Build Mode no longer get overwritten by the settings of this Effect.
Mass Move Effect -> Place New Path button no longer gets stuck when trying to use the Effect in a second Clip.
AI Artist Styles: This Effect has been removed.
Precipitation Effect:

While enabling SpeedRay Reflections, puddles on sloped surfaces no longer create artefacts.
A black shadow square no longer appears when using this Effect together with the Variation Control Effect.
3.6: Save, load, and recovery functions
3D Grass in older .LS files: Projects containing 3D Grass which displayed an error ('Out of memory') when loaded in Lumion 12.0.2 and did not load, now open as expected.
Merge: Objects in the Utilities Category are no longer counted during this process as they are not merged.
Recovery files: are now automatically discarded when starting Lumion by double-clicking an .LS file.
Import Screen: Long model names are now displayed correctly.
3.7: User Interface
Various minor interface changes:

Volumetric Spotlights Effect: has been renamed Volumetric Lights as it can now also be applied to OmniLights.
Mouse Wheel Up/Down navigation: is now available in Movie Mode when scrolling through Clips.
Toast notifications: are also displayed after rendering a Photo Set or an Image Sequence.
Other minor text and layout of the text changes.
Translations: Various missing translations have been added.
Watermark:

in Build Mode it no longer scales with the Editor Resolution.
has been updated for the Lumion Trial, Lumion Business Trial (Pro Trial), and Lumion Student/Faculty.
3.8: Miscellaneous
Lumion Viewer: The High-Quality Preview no longer gets rendered during playback of a Movie/Clip.
Example Projects: Various tweaks to the examples and templates.
From the Team:
Enjoy learning and using Lumion 12.3.