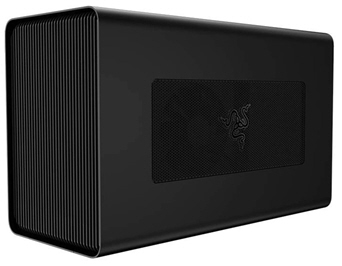 image: razor.com: Razer Core X
Lumion will work with eGPUs so long as the graphics card meets the requirements for Lumion and the drivers are kept up to date.
Please keep in mind:
If you do decide to go ahead and try an eGPU, make sure it meets the requirements of Lumion in terms of the graphics card performance as in this article:
Also make sure that the rest of the laptop components meet the requirements to run Lumion:
Do you have an Existing Laptop?
If you have an existing laptop and want to stay with the laptop instead of a desktop, then you need to consider some options. That includes the cost of adding an eGPU versus purchasing a different laptop with a more modern and powerful graphics card and possibly better supporting system such as faster CPU, storage, etc.
If you want to add an eGPU to a Mac:
Please see this article:
Online Reviews: