October 17, 2023
Lumion 2023.3 includes added features and functionality, new library items, and addresses some usability issues.
Important: To install the changes, Lumion 2023 needs to be updated. Please follow the instructions in the Lumion pop-up window and see the article below for additional information: 
For background information, also consult:
For a video walkthrough, please check the link below:
1. New functionality:
Build Mode -> Place Mode
1.1: Line Placement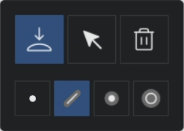 The new Line Placement now replaces Mass Placement from previous versions and brings several key improvements for easier and faster placement:
1.1.1: Objects are now placed along a spline that is considerably easier to manipulate using its Control Points and the Gizmo.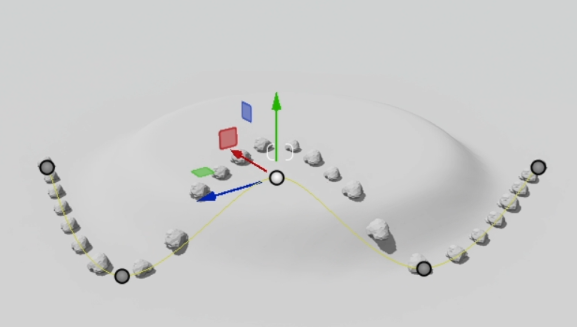 1.1.2: The Control Points can now be moved above or below the surface they are placed/projected on.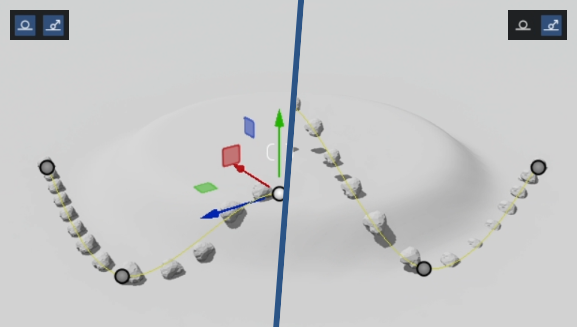 1.1.3: A new Toggle button has been added, Conform to ground, that enables objects to inherit the angle and orientation of the surface they are placed on.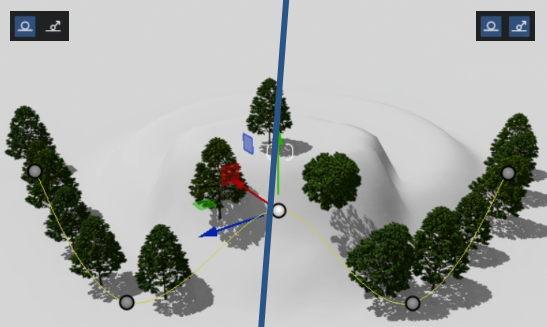 1.1.4: Switching between a Smooth and a Linear path is also possible by changing the Line Options.

1.2: Cluster Placement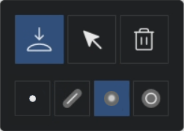 The improved Cluster Placement comes with additional functionality that allows for easier and faster Scene building:
1.2.1: Up to 20 Objects can be selected from the Library:


1.2.2: The Radius of placement can now be controlled (maximum of 100m) alongside the number of items (maximum of 50):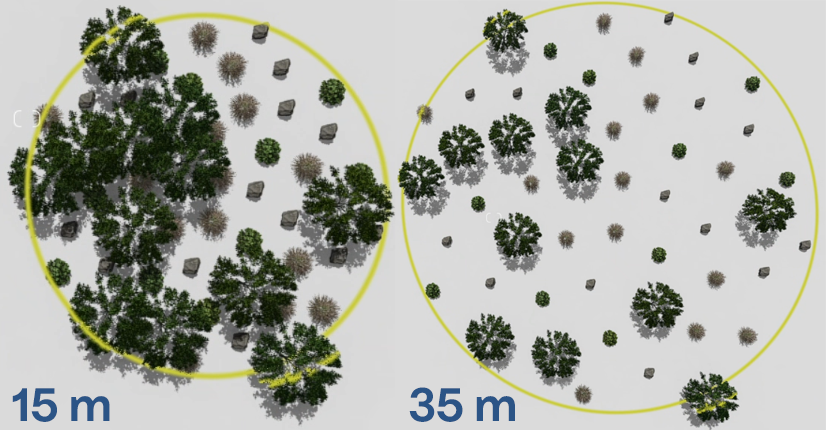 1.2.3: Sliders similar to the ones in the Line Placement tool have also been integrated (Randomize positions, Direction, and Randomize direction). 

The L key can be used to control the Cluster Range and the R key for the Direction.
1.2.4: Conform to ground (see section 1.1.3 for more details) is also available.

See also:
Build Mode -> Object Library
1.3: New Library Objects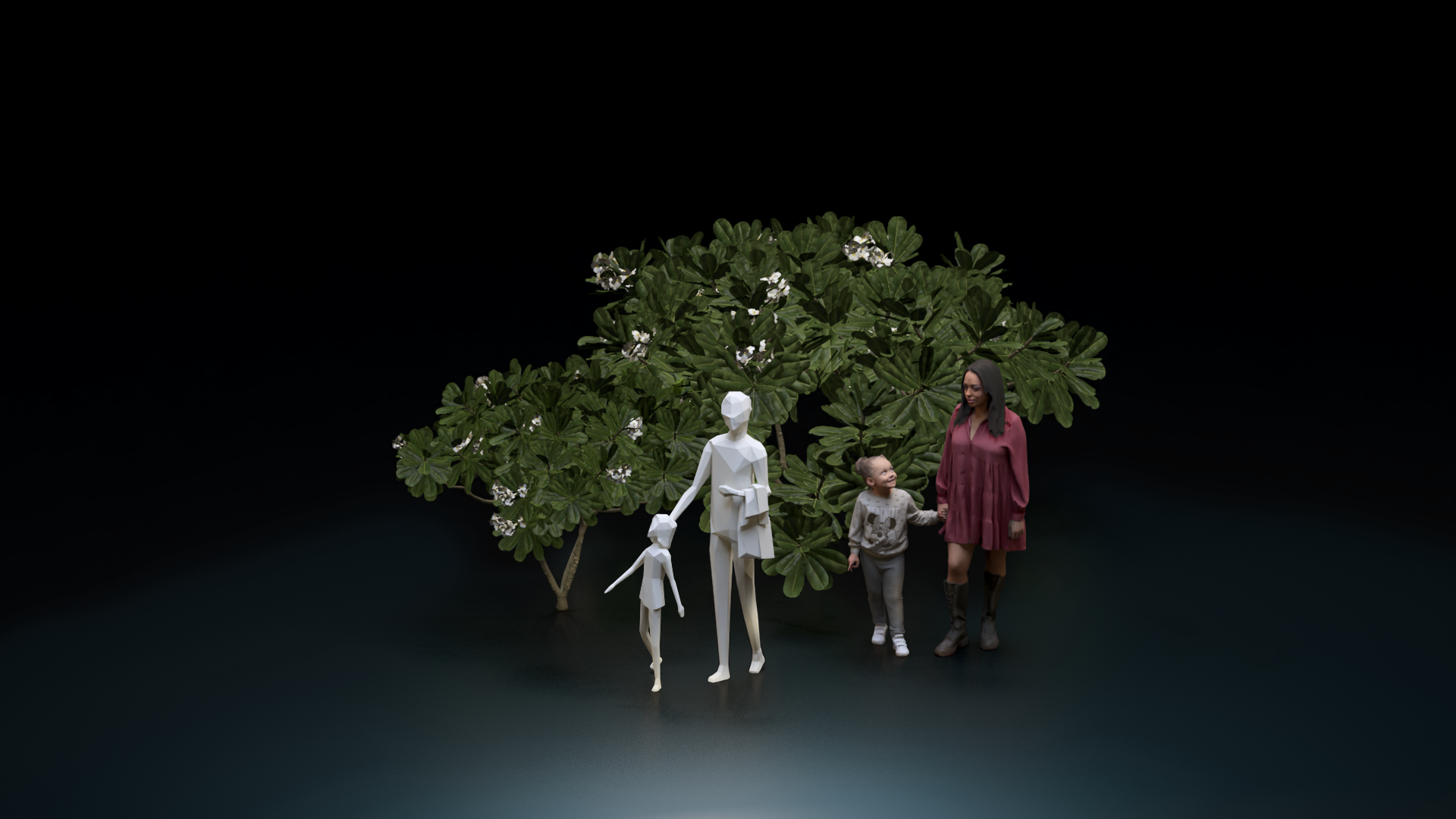 1.3.1: The Lumion Library has been updated with 188 new Objects
100

Fine-detail Nature.

50 high-quality static 3D People.
28

Stylized

low-poly Objects for conceptual representation: 10

Trees

, 12

People

, 6

Cars.

10 OmniLight Presets.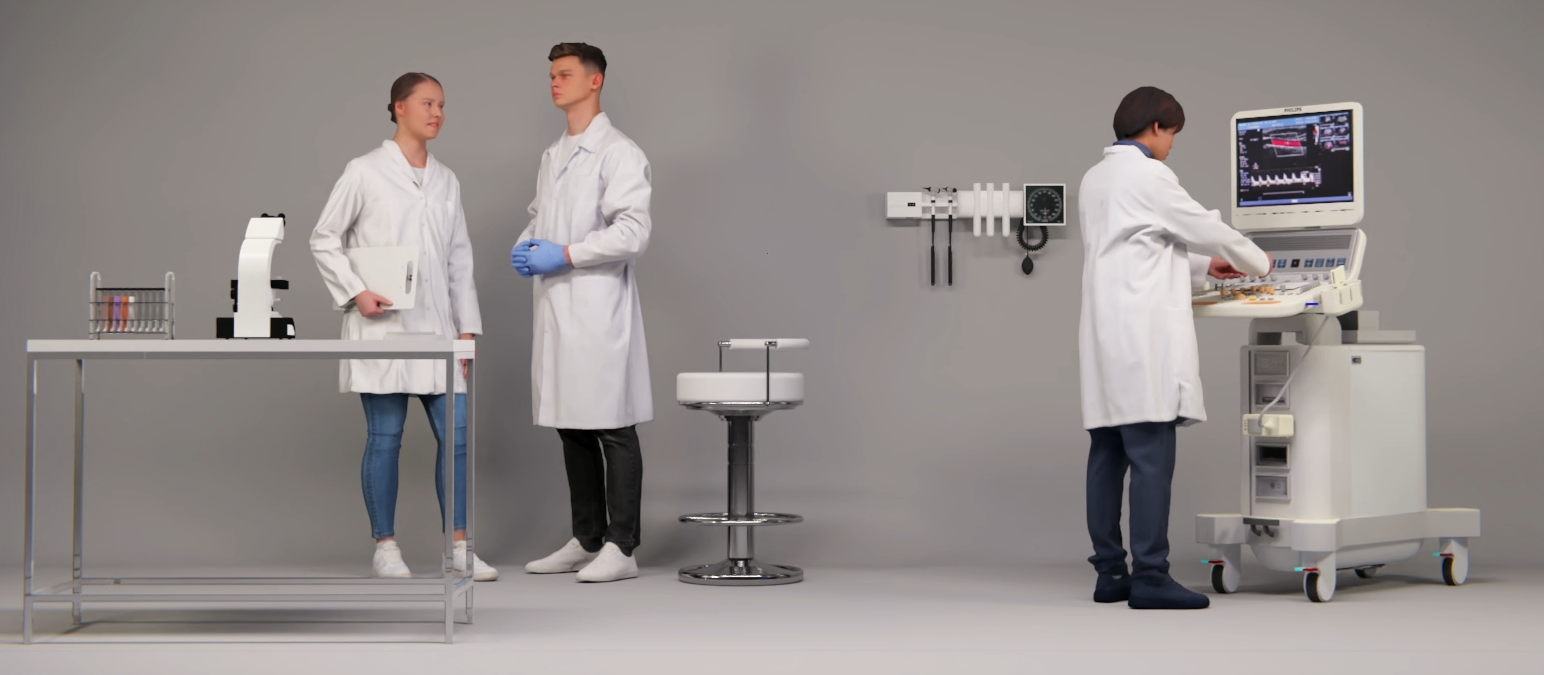 1.3.2: Searching the Lumion Library using the term L23.3 will display all newly added items.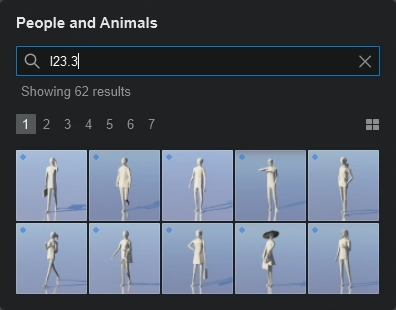 Lumion Pro 2023.3 now includes 188 new Library Objects out of which 34 new have been made available for Lumion Standard.
1.3.3: See also:
1.4: IES profiles for OmniLights
A set of 10 new OmniLights has been added to the Lights Library.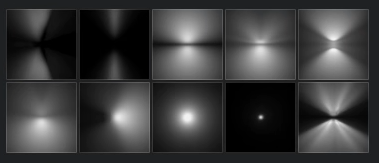 It is now also possible to load a custom IES Profile for OmniLights.
Build Mode -> Landscape Mode
1.5: OpenStreetMaps improvements
1.5.1: OpenStreetMaps texture resolution has been highly improved for supported areas.
1.5.2: In addition, the download speed for OSM tiles has been improved significantly.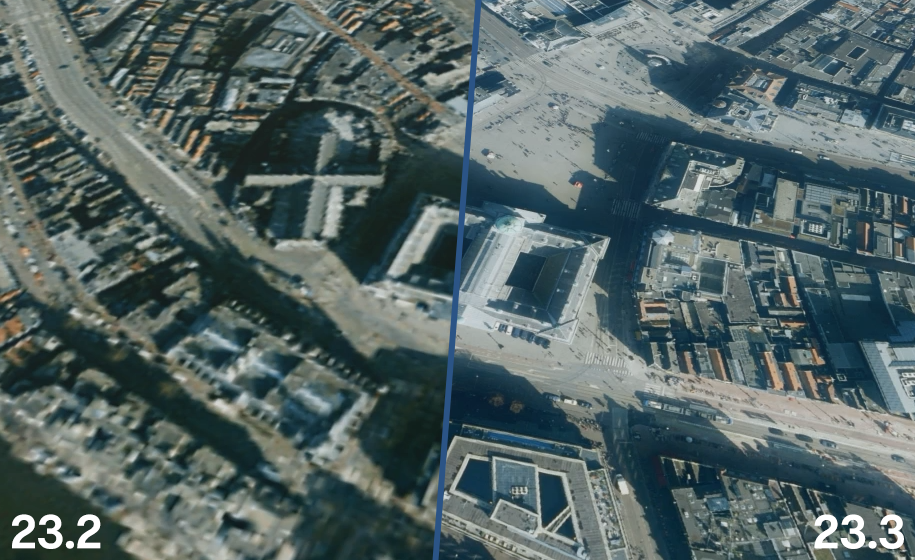 Output Modes
1.6: Movie Mode -> Render multiple clips
Clips within the same Clip Set can now be rendered to individual '.MP4' files when selected via the Clips tab. This tab is visible when clicking the Render Movie button while Entire Movie is selected or one of the Clips is selected.

The interface is similar to that in Photo Mode.

Effects
1.7: Custom HDR/HDRi Skies for Real Skies
Loading a custom '.HDR' file to replace the presets is now possible through the Load button available in the Real Skies Effect. Using a custom image file will replace the sky map and emit light from the brightest registered area of the loaded texture. The sliders will affect the sky map in the same way as they affect the existing presets.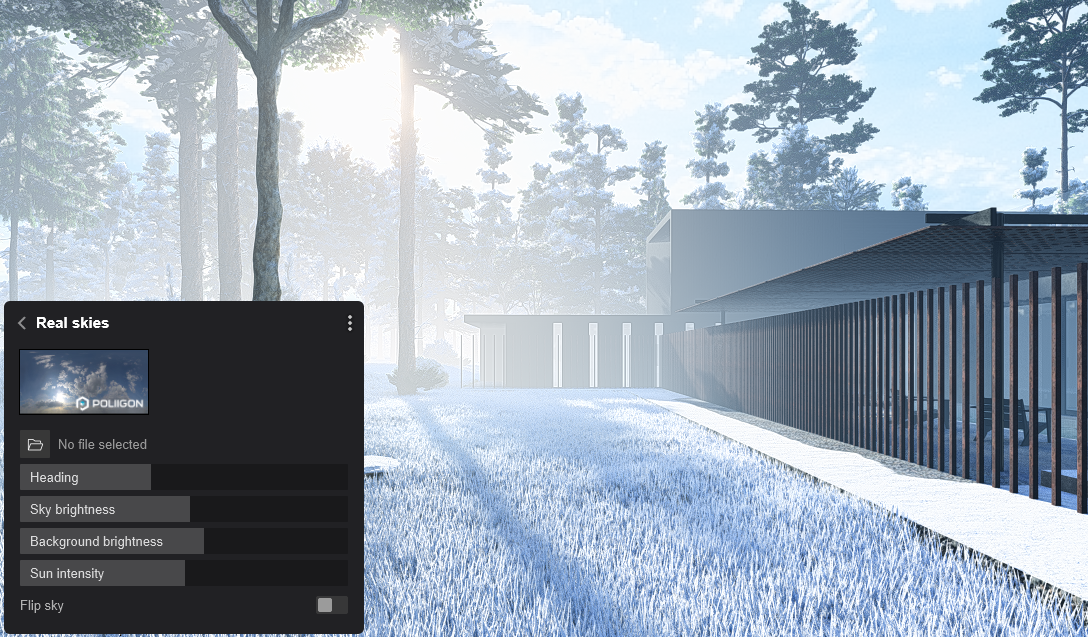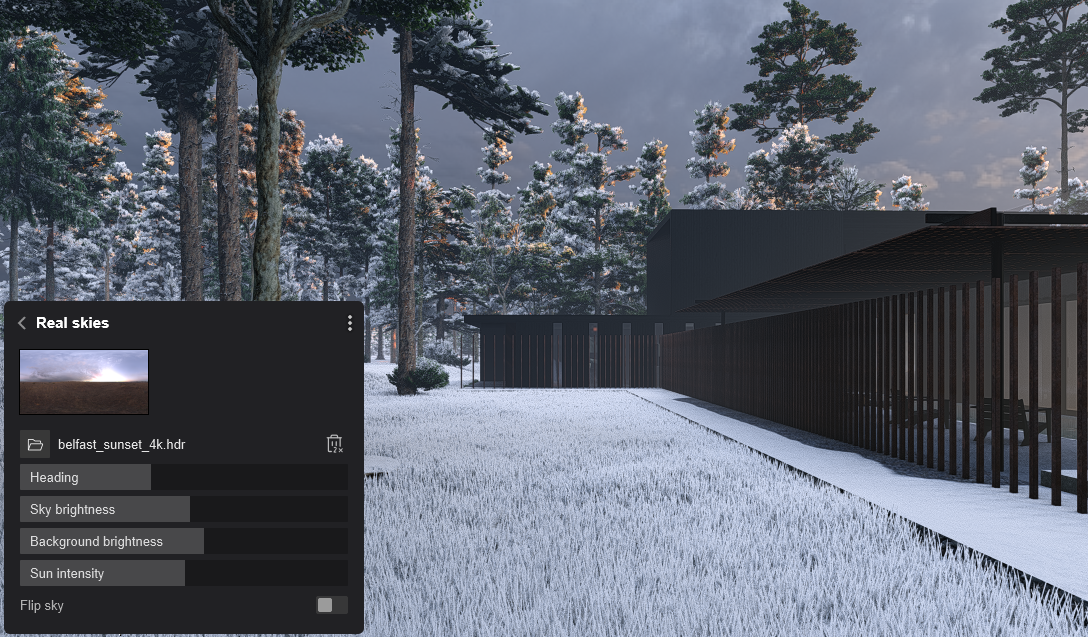 The lighting system is optimized for exteriors and using '.HDR' files for interiors may result in unexpected behavior.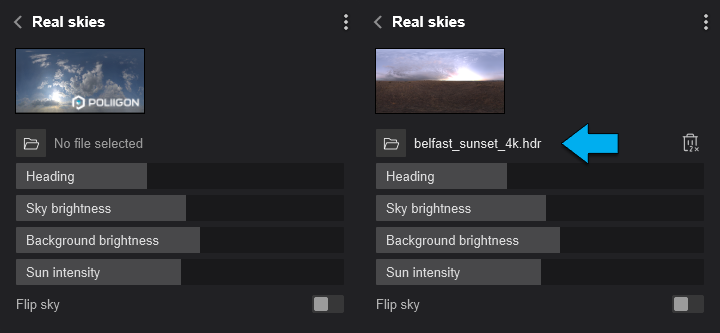 See also:  
1.8: LUT support for Color Correction
1.8.1: LUT functionality has been added to help keep a consistent look between images.
1.8.2: There are 10 presets in Lumion: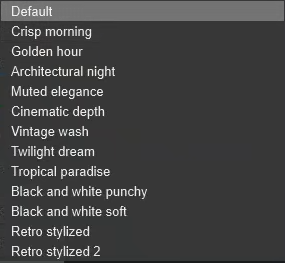 1.8.3: Custom '.CUBE' files can also be loaded.
1.8.4: An additional slider has been added to control the intensity of a LUT (LUT intensity).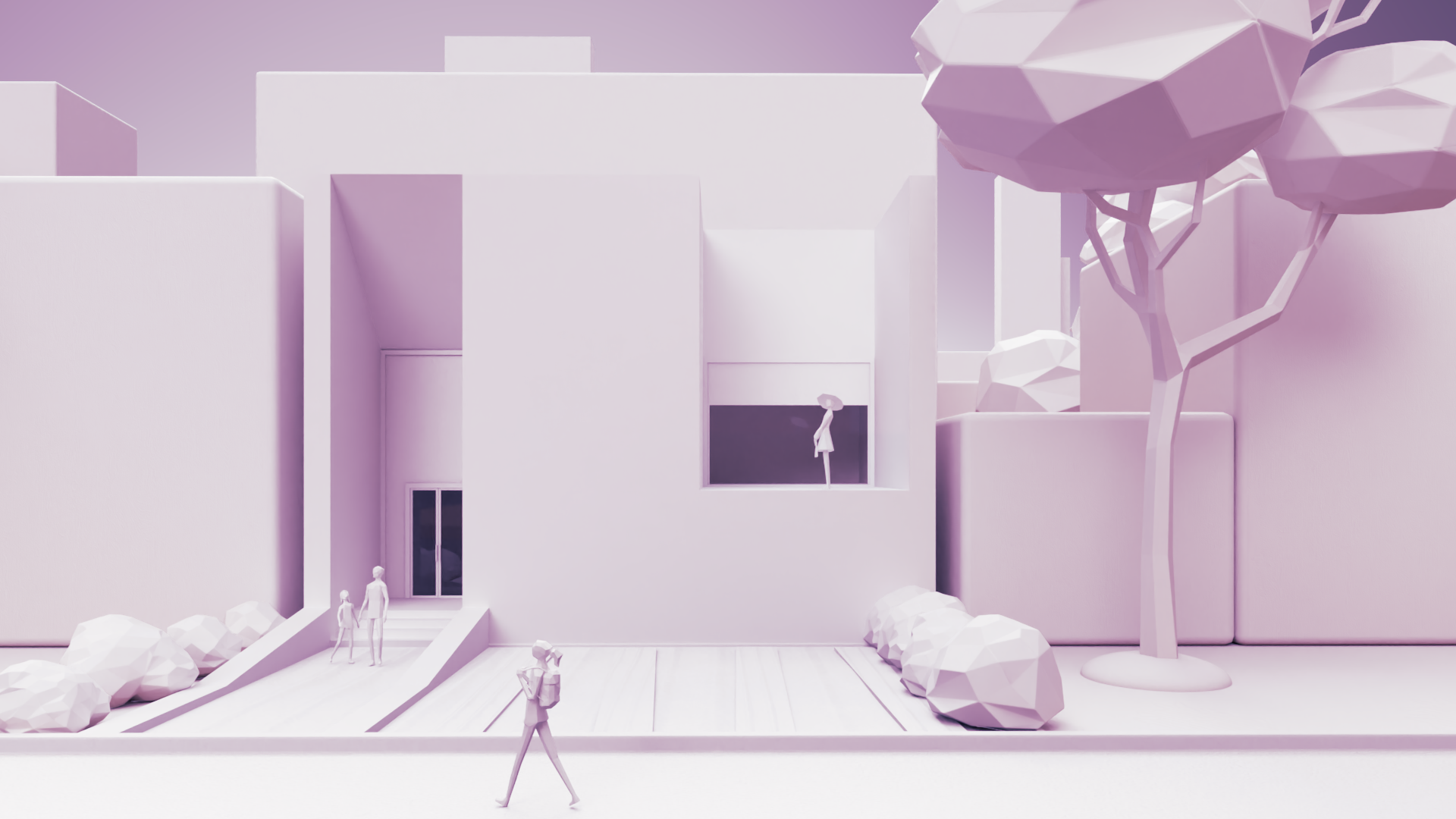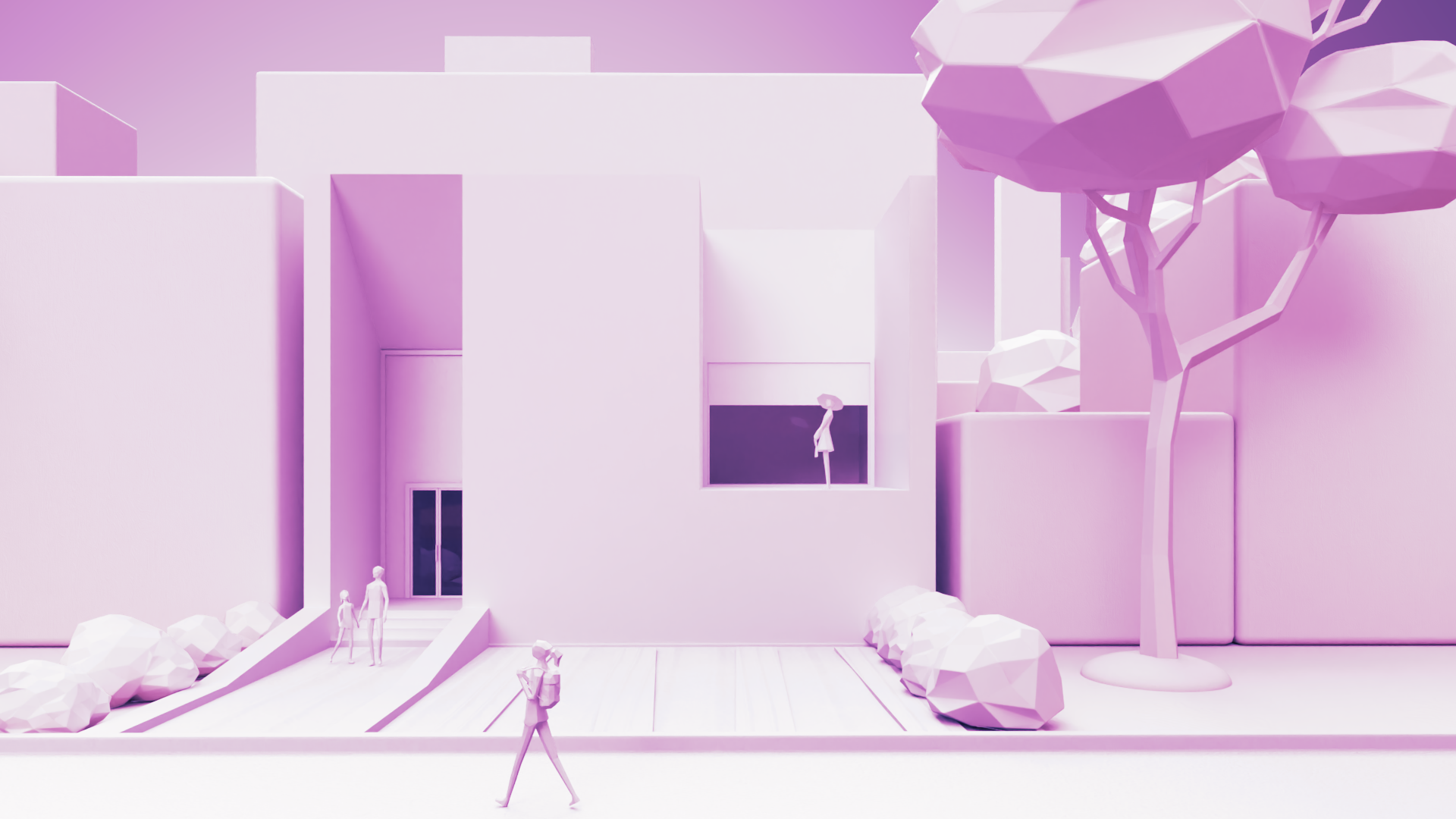 See also:
2. Improvements:
Build Mode -> Landscape Mode
2.1: New Landscape textures
There are 18 new high-quality textures added to Landscape Mode covering a range of environments. Older textures have been moved to the Legacy folder for a cleaner presentation of the Texture panel.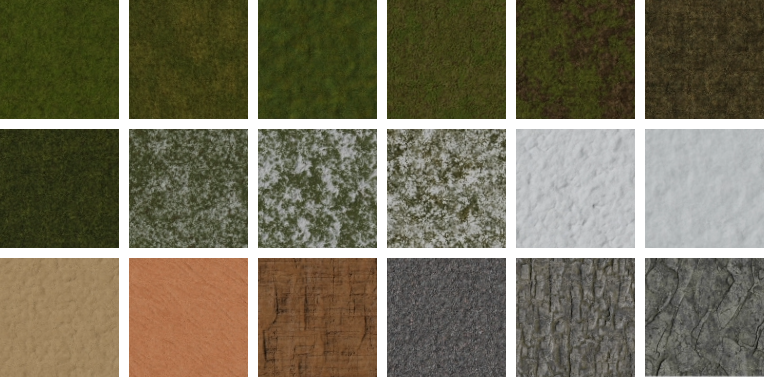 See also Section 4. Custom Landscape textures.: 
Build Mode -> Objects
2.2: Randomize Nature Object colors
Lumion 2023.3 and newer versions will apply a small Hue adjustment when placing multiple Nature Objects of the same type.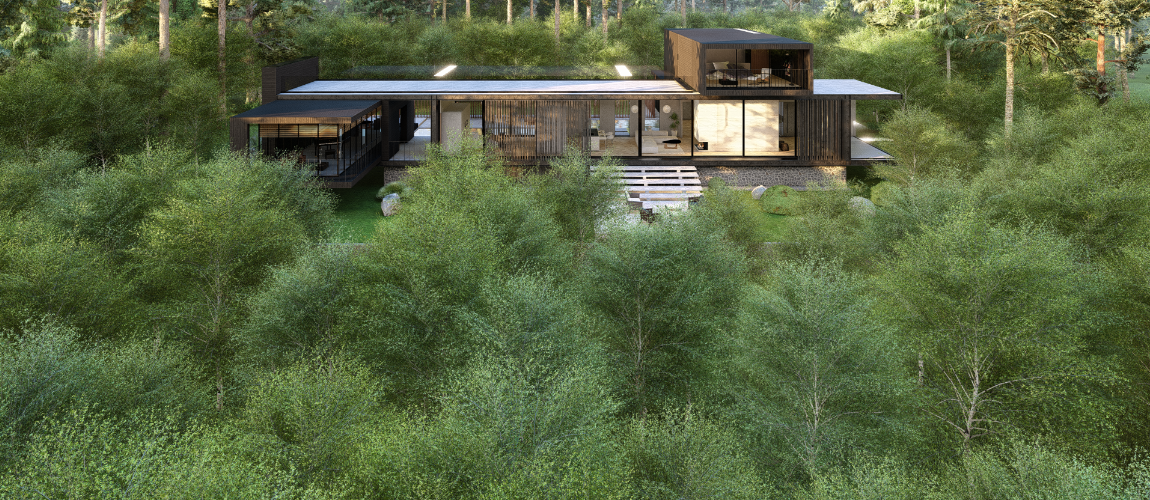 Build Mode -> Material Mode
2.3: Colorization for Leaves
The Leaf Material and Foliage Property of the Standard Material are now colorizable using the Leaf Colorize slider.

Build Mode -> Importing
2.4: Variations panel
Creating a Variation will toggle a panel that allows for either the duplication of the current Imported Model (example left) or importing a new model (example right):

The left example for the panel will create a (unique) duplicate of the current Imported Model. 
Clicking on the 'Browse' (folder) button and selecting a new model will create a new Variation.
Output Modes
2.5: Movie Mode - Camera Paths
Camera path movement and projection have been redesigned to avoid intersections with the Lumion Landscape. When camera movement set via a path intersects the landscape mesh, it will now project the position of the camera to the closest point above the landscape.


2.6: Photo/Movie/Panorama Mode - Copy and Paste notification
A notification will appear when a Photo/Movie/Panorama Position or Effect Stack is copied to the clipboard.

Effects
2.7: Improved light control for Real Skies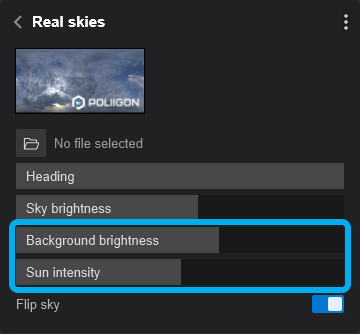 2.7.1: A new slider, Sun Intensity now controls the brightness of the Sun independently from the rest of the Sky.
The slider allows for tweaking the sun intensity without the need to add the Sun Effect on top of the Real Skies Effect.  
This slider value will be the same value in the Sun Effect if it is included in the Effect Stack.

2.7.2:  The Overall Brightness has been renamed to Background Brightness. to better reflect what it does. 
Setting the brightness of the HDR image itself without affecting the actual lighting cast by the sky map.
2.8: Keyframing for Real Skies
The Heading, Sky Brightness, Background Brightness, and Sun Intensity sliders can be keyframed in Movie Mode: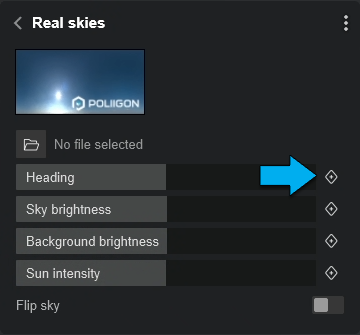 2.9: Improved UI display of sliders
Slider values are now displayed on the right side, within the area of the slider, thus avoiding overlap of UI elements and improving readability.

New example

 

Projects

 

and

 

Templates
2.10: Example Projects
Lumion 2023.3 includes:
1 (one) new

 

Example Project: House of Time.
8 (eight) of the existing Example Projects have received improvements.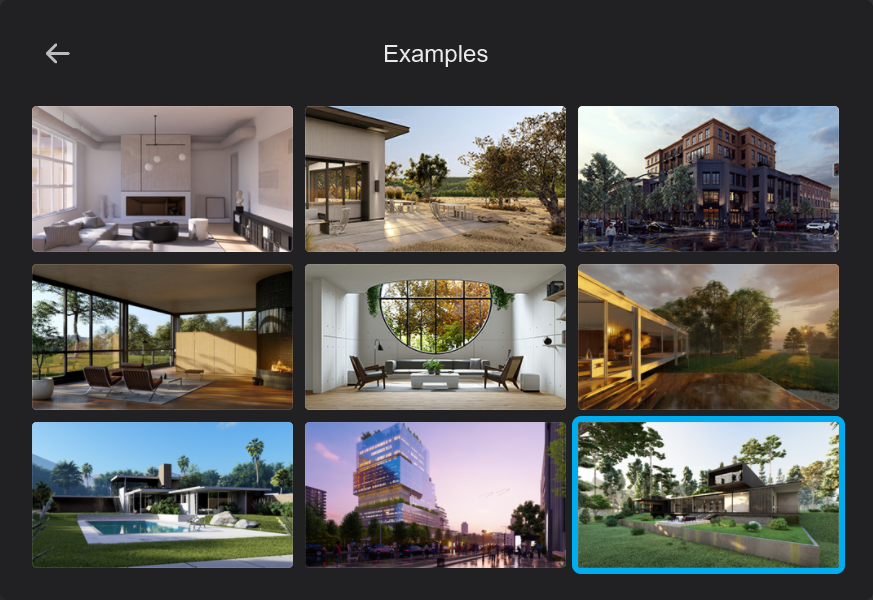 2.11: Templates
1 (one) improved Template: Design Showcase.
3 (three) tweaked Templates (Mountain Range, Forest, Tropical).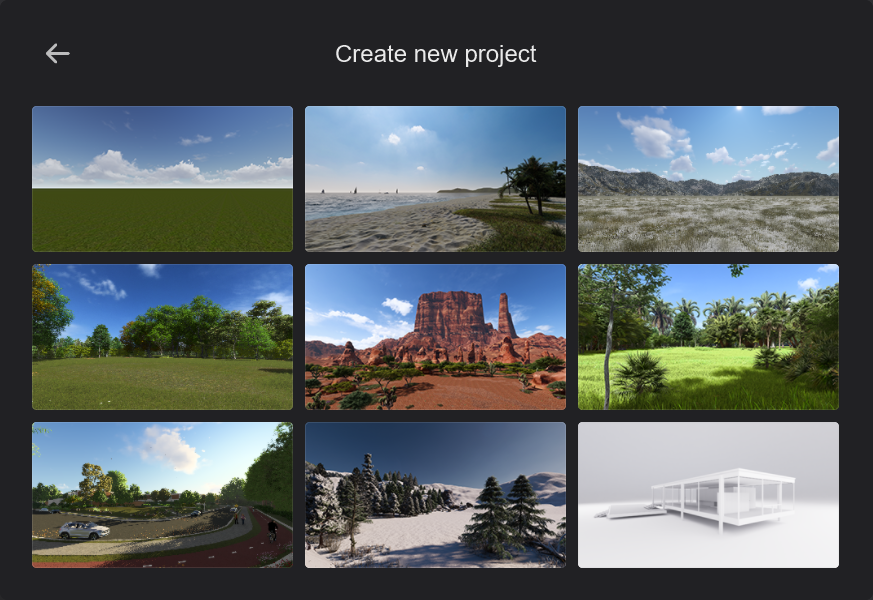 3. Resolved issues and other improvements:
3.1: Build Mode
3.1.1: Object Library
Lights: Omnilight presets now replace the Red/Green/Blue Omnilights.
Lights: Names of custom IES Profiles are now displayed in the Light's name.
Nature: The Cactus Subcategory has been relocated under Plants.
Nature: The Cactus Subcategory has been relocated under Plants.
Effects -> Decals: no longer lose their assigned Custom Texture when moved.

Library Οbjects

: Custom-assigned Colors no longer reset to default after reloading a Project.

Library Οbjects

: Tags for the new Objects have been added. The search function will also filter Objects when using the following keywords:

Continent
People
Attributes
Season
Asia
Casual
Books
Shovel
Spring
Europe
Business
Bag
Crate
Summer
Africa
Uniform

Coffee Mug & Bag

Coffee Mug
Fall
America
Adult
Coffee Mug & Phone
Travel Bags
Winter
Oceania
Child

Laptop Headphones

Phone & Travel bag

 
 
 
Notepad
Laptop & Phone
 
3.1.2: Place Mode
Mass Placement

has been renamed to

Line Placement

.
3.1.3: Select Mode
Selection: The performance during Object selection has now been improved.
Snapping: Moving an Object away from an Imported Model will no longer push it away when Snapping is enabled.
Context Menu -> 'Find material in Library' button: will now select the correct

Material

.
Context Menu -> Characters: The Color Wheel no longer appears next to the 

Characters'

Thumbnails.
3.1.4: Landscape Mode
OpenStreetMaps

: OSM buildings now appear less reflective.

OpenStreetMaps

: Adjusting the Landscape Height under an OSM building no longer results in intense shadows applied to its geometry.

Landscape

: Objects outside the editable Lumion Landscape are now clipped as expected.

Landscape

: The border marking the editable Landscape area is now always visible in Build Mode.

Landscape

: The White

Landscape Material

has been updated with a Normal Map that is completely flat.

Sky

: Visual glitches no longer occur when the mouse is hovering over the interface while an Object is selected in

Place Mode

.
3.1.5: Other
Object Thumbnails: Object Thumbnails created in older versions of Lumion, now display as expected when opened in Lumion 2023.
3.2:

Material Mode
Materials

-> Roughness Map: Surfaces where a value or map is assigned to their Roughness are now correctly displayed in Planar Reflections.

Custom materials

: The naming of

Custom Materials no longer has capitalization issues.

Library Materials

: Wood 053 a and Wood 053 b are now tileable.
3.3: Photo/Movie/Panorama Mode
Camera presets

: The imperial and metric units are now displayed as expected.

Camera presets

: A distorted outline is no longer visible when selecting an Object for Follow object Camera.

Camera presets

: The camera target is now displayed as expected when the camera position is pushed above the landscape.

Camera presets

: The path is now always positioned at the camera view when entering a preset Clip.

Camera presets

-

Pan/Tilt

: The Tilt Control points are now behaving as expected.

Import Camera Path

: This feature now behaves as expected.

Photo/Movie/Panorama Positions

: after being copied to the clipboard via the Context Menu, are now pasted in the correct Slot.

Photo Mode

: Switching to

Photo Mode

will now retain the Camera position from

Build Mode

.
Shortcuts:

Photo/Movie/Panorama Positions

can now be copied and pasted using the Ctrl+C and Ctrl+V commands.
3.3.1 Rendering
Render image sequence

: Edit boxes for "From" and "To" are now pre-filled with frame values.
Rendering

Clips

: The Sky is now rendered correctly in the first Frame of the

Clip

.
Various tweaks: to the Lights in Lumion for better and more realistic calibration, including natural lighting (Sky, Sun, and Real Skies), artificial lights, and Effects that influence lighting (example: Lens Flare Effect).
3.4: Effects
Color Correction Effect

: Sliders are now locked between keyframes to prevent accidental changes

Ray Tracing Effect

and

Lights

:

Lights

no longer become invisible occasionally in combination with

Raytracing

.

Ray Tracing Effect

for

Clips

:

Lights

on hidden

Layers

are now ignored by the

Ray Tracing Effect

resulting in improvements in the shadows.

Ray Tracing Effect

-> Denoiser: The Denoiser no longer switches between GPU and CPU during the rendering process.

Real Skies Effect

: The selected Sky is now retained when switching

Photo Sets

.

Animated Phasing Effect

: The Global center point has been reduced in size and no longer overlaps the UI.

Animated Phasing Effect

: The stagger order now matches the selection order.

Handheld Camera Effect

: Tree Cluster Objects now have the Y-axis facing up at all times.

Image Overlay Effect

: The image file name used in the Effect is now saved and displayed at all times.

Titles Effect

: The font assigned via a Preset is now displayed as expected.

Advanced Move Effect

: The Path is now correctly updated after Keyframes are removed.

Advanced Move Effect

: The tooltip for the Linear/Smooth toggle now displays as expected
3.5: LiveSync and Importing
Livesync for SketchUp: Crashes will no longer occur when hiding and unhiding tags in SketchUp while

LiveSync

is on.
Livesync for Revit: Crashes will no longer occur when hiding and unhiding an isolated item in Revit while

LiveSync

is on.
Livesync for Vectoworks: Surface orientation now works as expected when importing a model from Vectoworks.
Importing and re-importing .FBX files: now retains the correct surface naming.
4. General:
4.1: User Interface
Movie Mode

->

Keyframes

: Updated the slider

Keyframe

buttons.
Updated UI for the following

Effects

: Sound, Image overlay, Shadow, Fade In/Out, Title, Variation control, Advanced move, Photo Matching, Layer visibility, and Depth of field.
4.2: Miscellaneous
Lumion updater: Lumion now checks if the Updater is running when starting.
Translations: Language translations have been updated.
Texts: Various text updates.
UI: Various UI improvements.
Improvements: Restricted-Mode:
See Also: