1. The best export method for your version of Rhino and Lumion
| | | |
| --- | --- | --- |
| Rhino | Lumion | Export method |
| Rhino 6 | Lumion 9.0 and newer | Lumion LiveSync for Rhino 6 |
| Rhino 5 SR 10 and newer | Lumion 5.0 and newer | File -> Save As -> Collada (*.DAE) |
| Rhino 4 and older | Lumion 5.3 and newer | File -> Save As -> SketchUp (*.SKP) |
2. Tips & Troubleshooting
2.1: Why can't you see the model after importing and placing it in your Scene?
The Insertion Point for the Imported Model in Lumion corresponds to 0,0,0 in Rhino.
If a model is far away from the Insertion Point in Lumion, you need to move the model closer to 0,0,0 in Rhino, before exporting it to Lumion.
If the model is imported into Rhino from other 3D/CAD software, e.g. from AutoCAD via .DWG format, the CPlane coordinate system in Rhino might have been moved away from the origin point (0,0,0).
To reset the coordinate system in Rhino please follow these instructions:
- Type _4View twice in the command prompt in Rhino to reset the CPlane.
- Then move the model to 0,0,0 with the 'Move' command and re-export or LiveSync the model.
2.2: Why can't you assign a Lumion material to individual surfaces?
Lumion will always combine surfaces that use the same material in Rhino. If you want to assign a Lumion material to a specific surface, you must assign a unique material to that surface in Rhino before importing the model.
2.3: Can you import materials assigned to layers?
Yes, in Rhino you can either assign a material to an object or to a layer: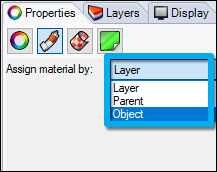 If you assign the material to a layer, all objects on the layer will then be identified by that material name when imported in Lumion: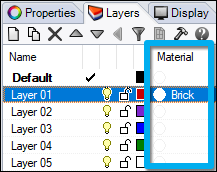 Any Rhino layers or objects that share the same material name will have the same combined surface and material name in Lumion.
If no material is assigned for a Rhino layer or object, it will not have a unique material name, and will be part of a catch all material/surface name in Lumion.
See also:
Video Tutorial: Features: LiveSync for Rhino
Knowledge Base: How do you replace imported 'proxy' objects with Library objects?